SITE INTENDED TO BE AND BEST VIEWED ON IPAD OR TABLET

[ BRENT J. ZORICH ] MA - BSID - CONT. STUDIES ENG. • WORLDWIDE PUBLISHED TECH & FASHION ENTREPRENEUR • PLAYSTATION AND XBOX DEVELOPER

1ST ENTRPRENEURIAL VENTURE • • • A TECH LLC UNDER ACQUISITION REVIEW FIVE TIMES WITH THREE FORTUNE 500'S FOR 20 MILLION DOLLARS, OUTPENETRATING FACEBOOK LLC IN UNIVERSITY USE PRE 'ANGEL INVESTMENT.'
2ND ENTREPRENEURIAL VENTURE • • • A TECH FASHION LLC APPROACHED BY INTERNATIONAL PR FIRMS ABOUT LAUNCHING IN 'GQ' AND 'VOGUE' MAGAZINES THAT WAS FEATURED IN 'THE WALL STREET JOURNAL'S MARKET WATCH.'
INTERNATIONAL INVESTOR • • • DESIGNED MULTIPLE SELF STANDING 'CASH COWS' GENERATING PASSIVE INCOME WITH LITTLE MAINTENANCE THAT ARE ALL EASILY ACCESSIBLE AND MAINTAINED THROUGH MOBILE ONLINE MONITORING.
INTRODUCTION

VISUAL SUMMARY OF RESUME
| | |
| --- | --- |
| | |
| GOAL ... | TO MAKE FURTHER ADVANCEMENTS IN THE FIELD OF DESIGN ENGINEERING THAT ARE PRIMARILY FOCUSED ON INNOVATION OF ANIMATION SYSTEMS USED IN FILM GAME CONVERGENCE (EXAMPLE: CREATING ONE 'SPIDER-MAN' CHARACTER ASSET THAT CAN BE USED AT BOTH 'SONY PICTURES' IN FILM AS WELL AS THE 'PLAYSTATION 5' IN GAME- USING SAME ANIMATION DATA BETWEEN BOTH DIVISIONS AND CUTTING COSTS. THIS WILL BE ACHIEVED BY CONTINUING AS A TECH ENTREPRENEUR, A FASHION ENTREPRENEUR, AND BECOMING AN EVENTUAL CHIEF VISUAL OFFICER AT A MAJOR COMPUTER GRAPHICS STUDIO. RANGE FOR A POSITION LIKE THIS AT A MAJOR FIRM CAN REACH UP TO 600K TO 800K BASE, WITH 1 TO 2 MILLION BONUS, AND 3 TO 7 MILLION IN STOCK. THIS POSITION REQUIRES EXPERIENCE WITH MODELING, ANIMATION, RIGGING, LIGHTING, CONCEPT, DIGITAL ARCHITECTURE, MASS MARKETING, RETAIL KIOSK DESIGN, RETAIL ARCHITECTURE, AND WEB DEVELOPMENT. BRENT IS HYPOTHESIZING THAT BASED ON THIS RESUME, HIS VALUE TO A MAJOR VIDEO GAME ORGANIZATION LIKE XBOX, PLAYSTATION, WARNER BROS INTERACTIVE, ELECTRONIC ARTS, ILM, OR TAKE TWO INTERACTIVE, IS UP TO 1/4 THAT OF THE CEO OF ELECTRONIC ARTS WHO IN 2021 EARNED 40 MILLION DOLLARS COLLECTIVELY FROM SALARY, STOCK, AND BONUS. |
| | |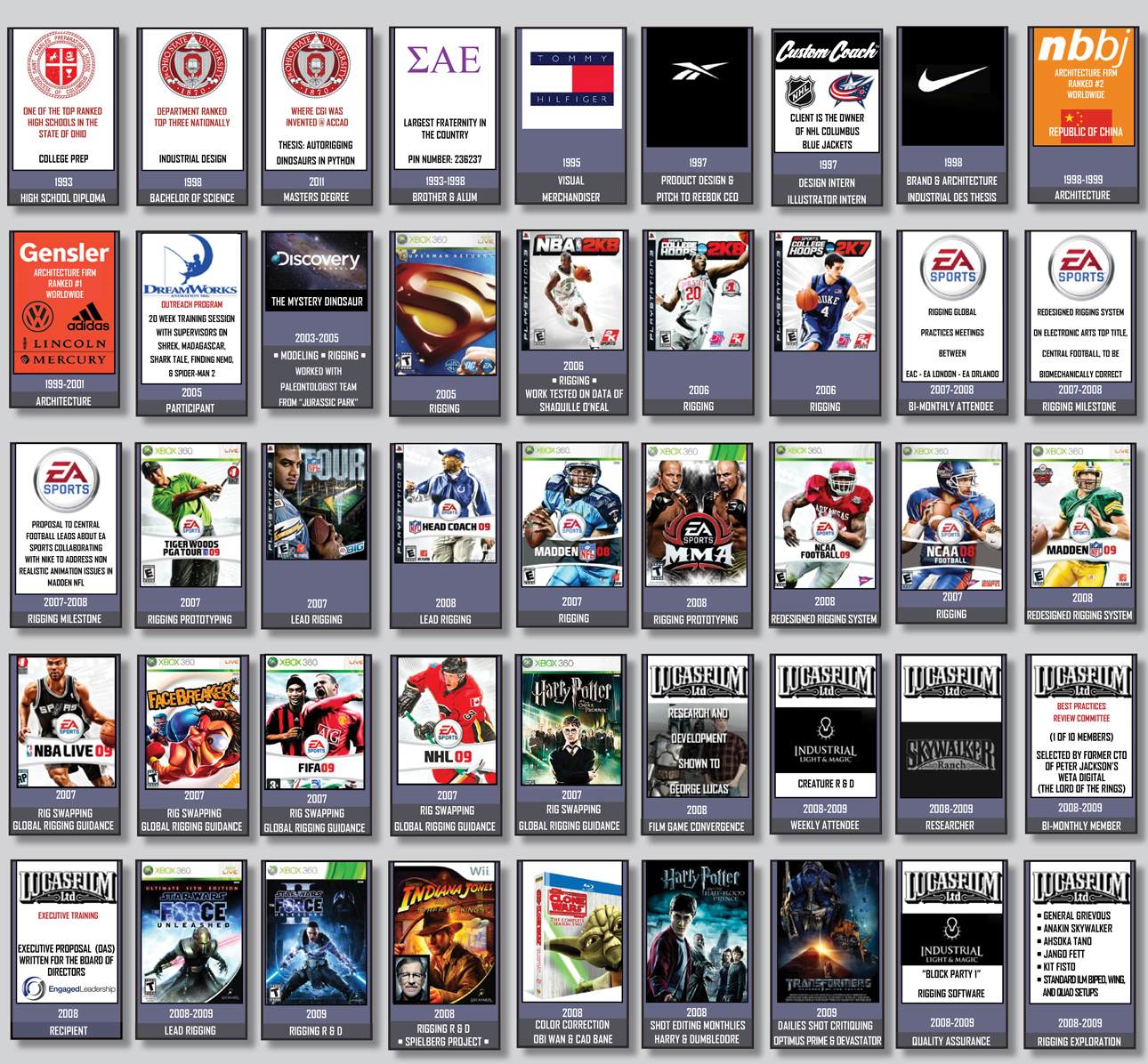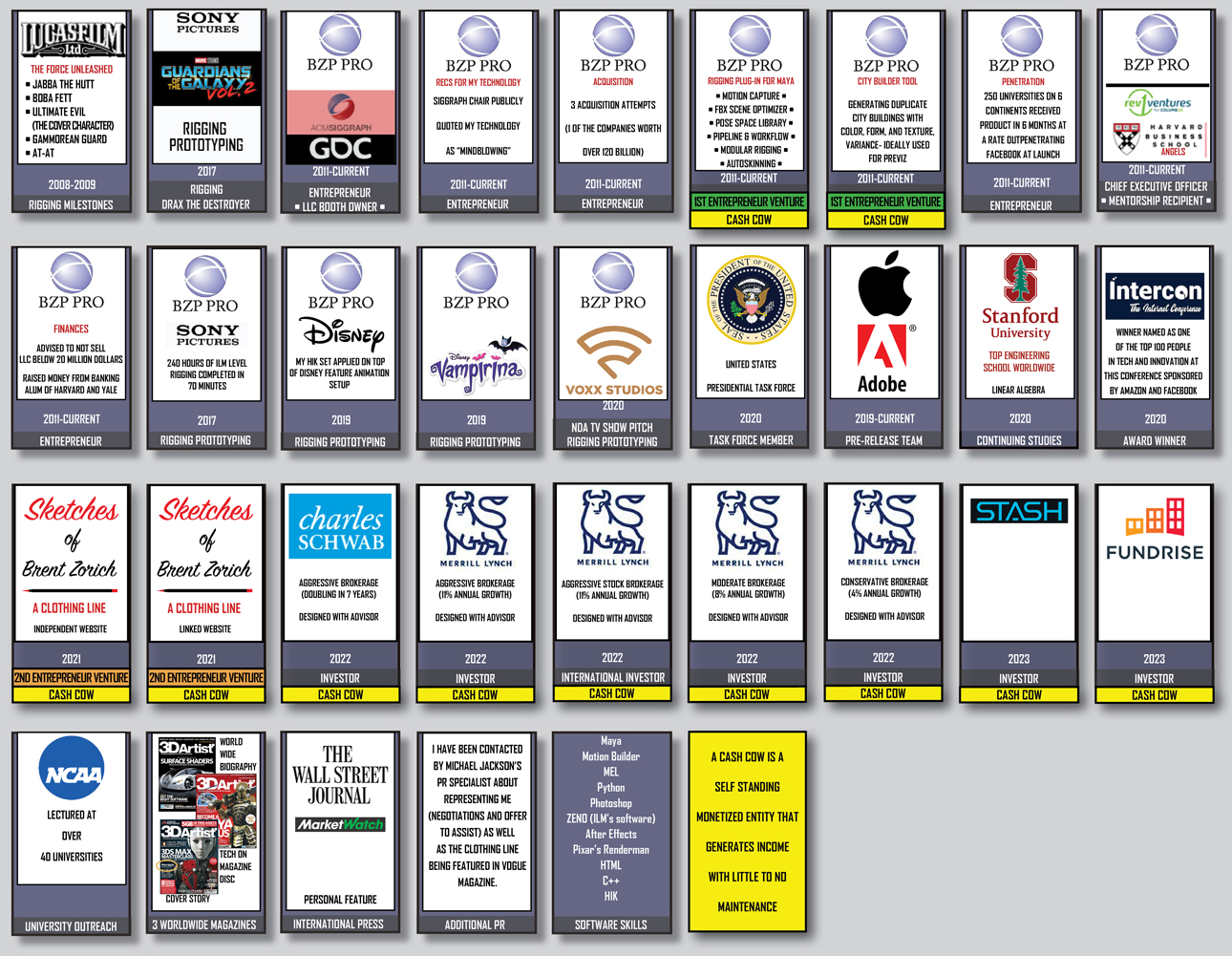 | | | |
| --- | --- | --- |
| | SO THE QUESTION IS ... IF LEONARDO DAVINCI ... ARTIST, ARCHITECT, INDUSTRIAL DESIGNER, ENGINEER ... WERE ALIVE TODAY, WOULD HE HAVE A HOMEPAGE LIKE THIS ? ... PROBABLY NOT ... | |
"A POWER PLAYER IS NOT THE PERSON WHO TALKS THE LOUDEST OR PARTIES THE HARDEST... NO... A POWER PLAYER IS THE PERSON WHO CAN DEVELOP TECHNOLOGY THAT CAN COMPLETE 560 HOURS OF GEORGE LUCAS LEVEL WORK IN 3.5 HOURS WITHOUT A COMPROMISE ON QUALITY..." BRENT J. ZORICH