•BRENT J. ZORICH MA - BSID - CONT. STUDIES ENG. • WORLDWIDE PUBLISHED TECH & FASHION ENTREPRENEUR • PLAYSTATION AND XBOX DEVELOPER
| | |
| --- | --- |
| • | EVENTUAL GOAL: CHIEF VISUAL OFFICER AT AN ILM, PLAYSTATION, XBOX, EA, TAKE TWO, OR WB GAMES, WHERE ANNUAL EARNINGS ARE 600K TO 800K BASE, PLUS 1 TO 2 MILLION IN BONUS, AND 3 TO 7 MILLION IN STOCK |
| • | NAMED ONE OF THE TOP 100 PEOPLE IN TECHNOLOGY WORLDWIDE AT THE "GLOBAL" INTERCON CONFERENCE SPONSORED BY AMAZON AND FACEBOOK |
| • | REWROTE THE RIGGING SYSTEM ON ELECTRONIC ARTS LARGEST TITLE, MADDEN NFL, THAT RECEIVED THE HIGHEST REVIEW (9.1) OF ANY MADDEN IN LAST 20 YEARS |
| • | FORMER BEST PRACTICES REVIEW COMMITTEE (1/10) FOR LUCASFILM AND INDUSTRIAL LIGHT & MAGIC (SELECTED BY FORMER CTO OF PETER JACKSON'S WETA DIGITAL) |
| • | CONVERGED ILM'S OSCAR NOMINATED 'JANGO FETT' WITH EMMY AWARD WINNING 'AHSOKA TANO' INTO A PLAYABLE BUILD ON THE XBOX REVIEWED BY GEORGE LUCAS |
| • | INVENTED A MAGAZINE PUBLISHED AUTORIGGER THAT RIGS/SKINS CHARACTERS IN 15 MINUTES AS OPPOSED TO 80 HOURS AT THE LEVEL OF INDUSTRIAL LIGHT & MAGIC THAT WAS UNDER ACQUISITION REVIEW FIVE TIMES FOR APPROXIMATELY 20 MILLION DOLLARS AND HAD ITS OWN BOOTH AT SIGGRAPH AND GDC |
| • | CO-DESIGNED A BUSINESS PLAN WHERE 250 SCHOOLS WERE LICENSED MY AUTORIGGER IN 6 MONTHS OUT PENETRATING FACEBOOK LLC'S FREEMIUM MODEL IN UNIVERSITY ACCEPTANCE PRE "ANGEL INVESTMENT" |
| • | ADDITIONAL MOTION CAPTURE RIGGING WORK FOR WALT DISNEY FEATURE ANIMATION, SONY PICTURES ANIMATION, TAKE TWO INTERACTIVE, AND VOXX STUDIOS |
| • | TOOK ILLUSTRATIONS COMPLETED FOR BEING PRE-RELEASE TEAM OF ADOBE PHOTOSHOP AND LAUNCHED A CLOTHING COMPANY WITH TWO ONLINE RETAIL STORES WHILE BEING APPROACHED BY INTERNATIONAL PR FIRMS THAT ARE ATTEMPTING TO PUT THE LINE IN "GQ" AND "VOGUE" MAGAZINE, ALREADY FEATURED IN THE "WALL STREET JOURNAL" |
| • | FORMER INT. ARCHITECT AT THE TWO LARGEST FIRMS WORLDWIDE WHERE ARCHITECTURAL PRINCIPLES LEARNED CAN APPLY TO VIDEO GAME LEVELS/ ENVIRONMENTS |
| • | DESIGNED A PERSONAL FINANCIAL BUSINESS PLAN WHERE "CASH COWS" WERE SET UP THAT HAVE THE ABILITY TO GENERATE SIX DIGIT RETURNS OF WEALTH BASED ON THE PRINCIPAL ALONE |
| • | CELEBRITY PROJECT AFFILIATIONS: FRIEDL BOHM, M. ARTHUR GENSLER, JOHN MADDEN, TIGER WOODS, MICHAEL BAY, JK ROWLING, STEVEN SPIELBERG, DAVID YATES, GEORGE LUCAS, JAMES GUNN, SHAQUILLE O'NEAL, DAVID BAUTISTA, JEFFREY KATZENBERG |
| | | |
| --- | --- | --- |
| | | |
| | BUSINESS PLANNING STRATEGY DESIGN | |
| | | |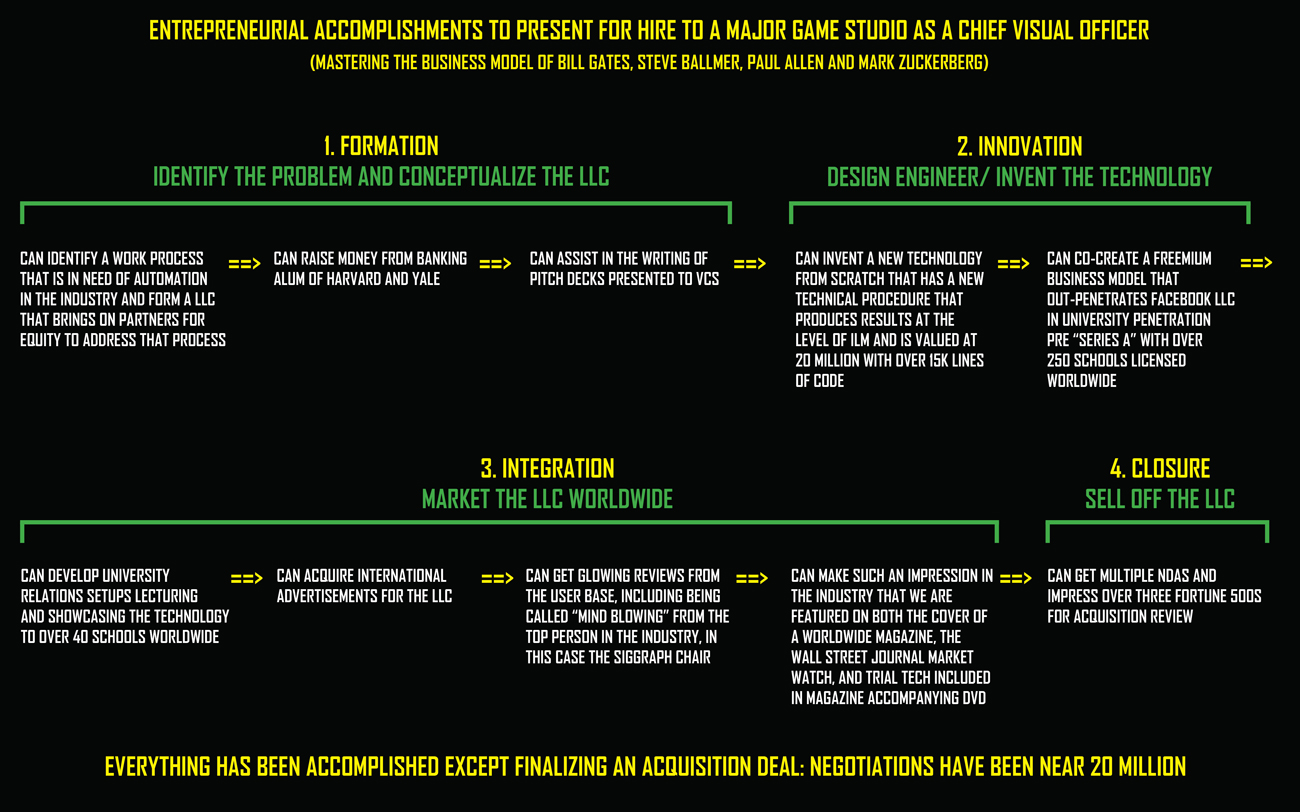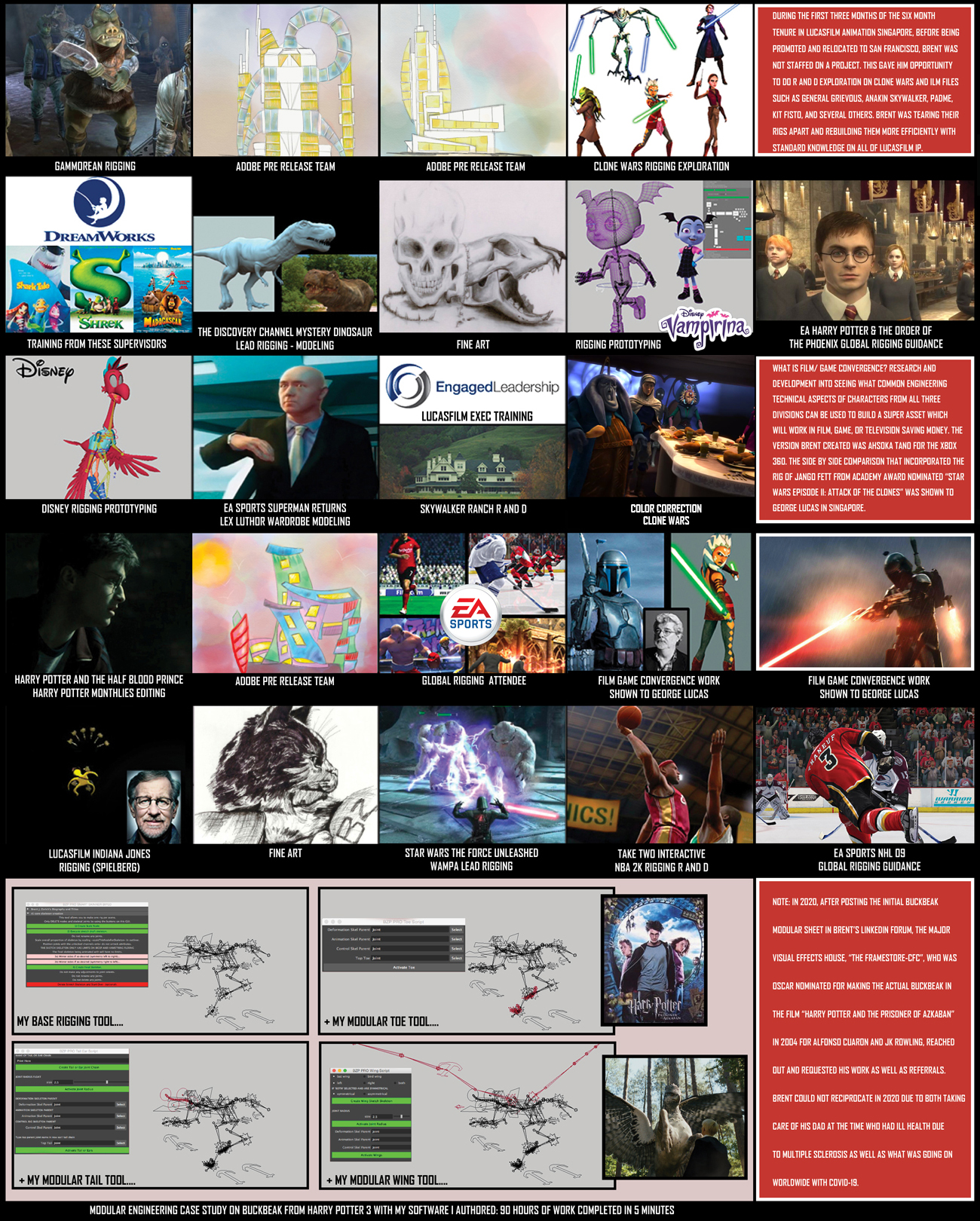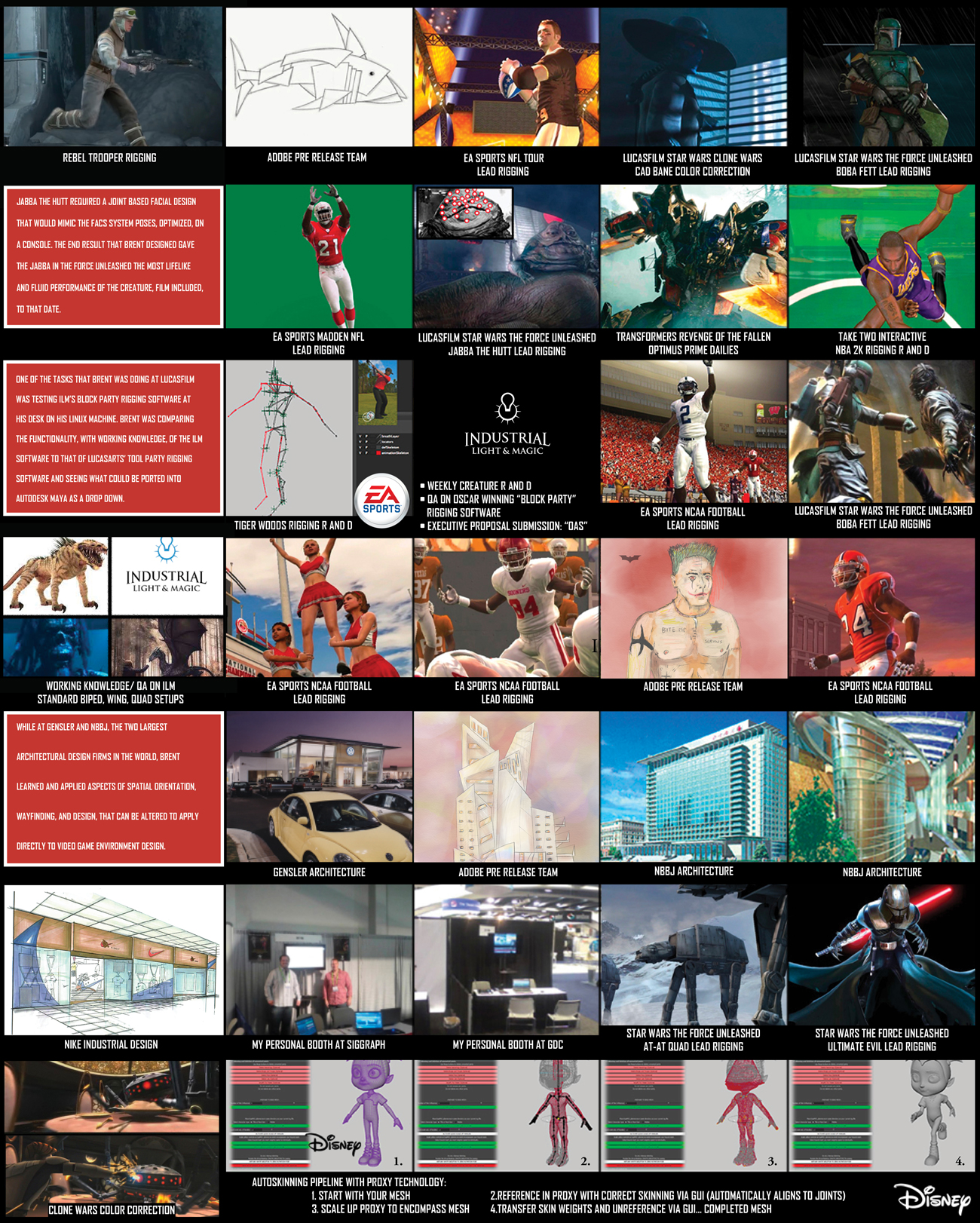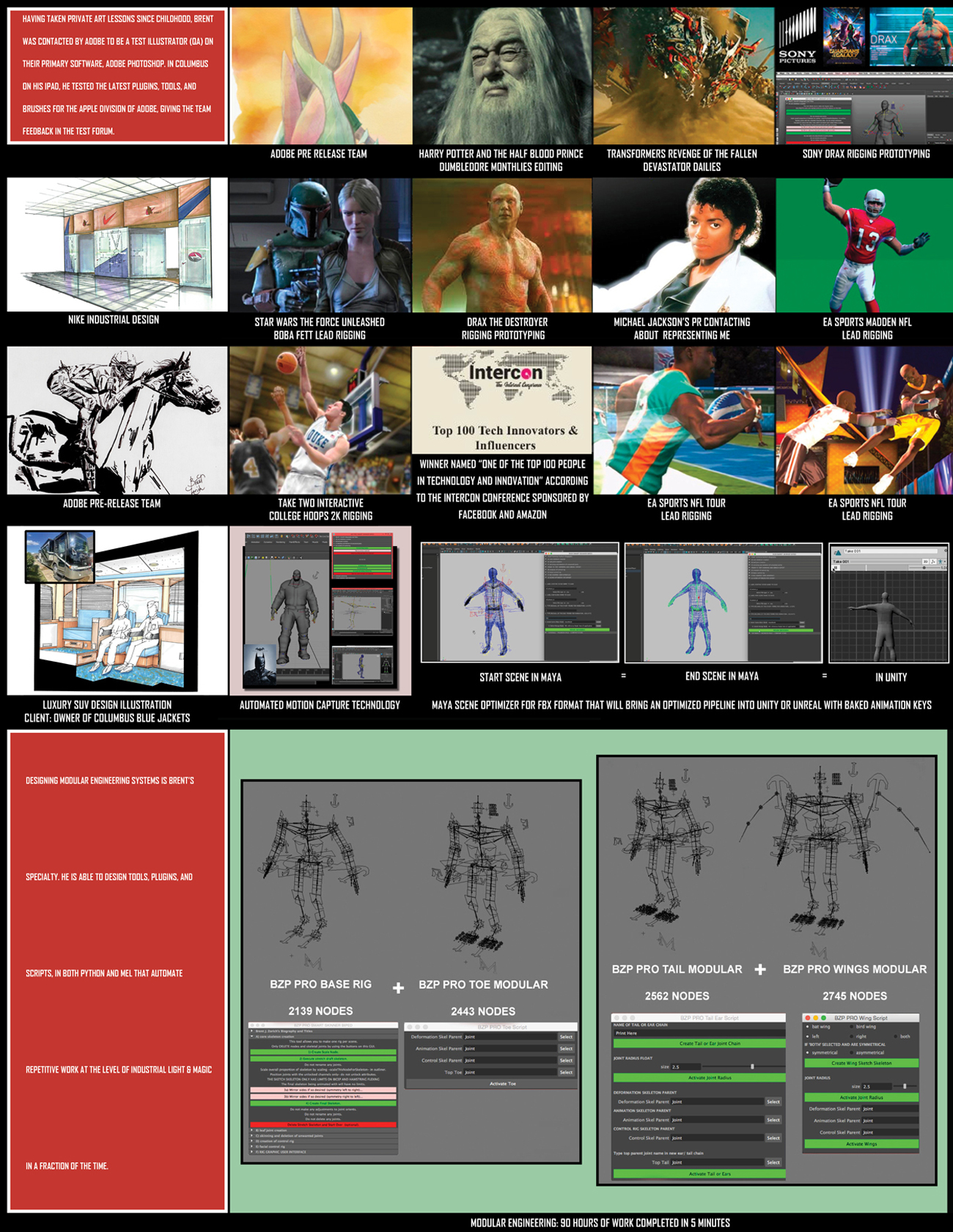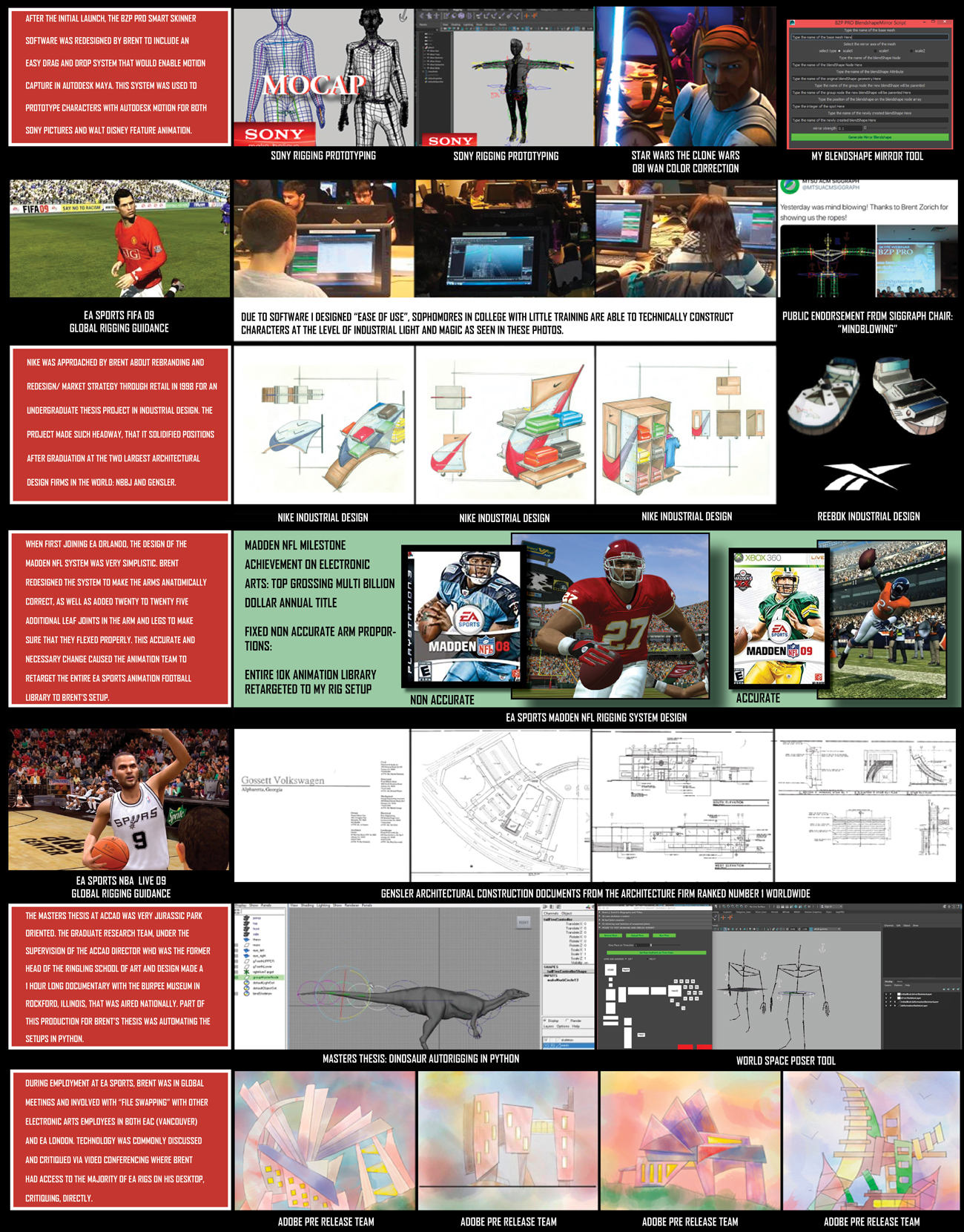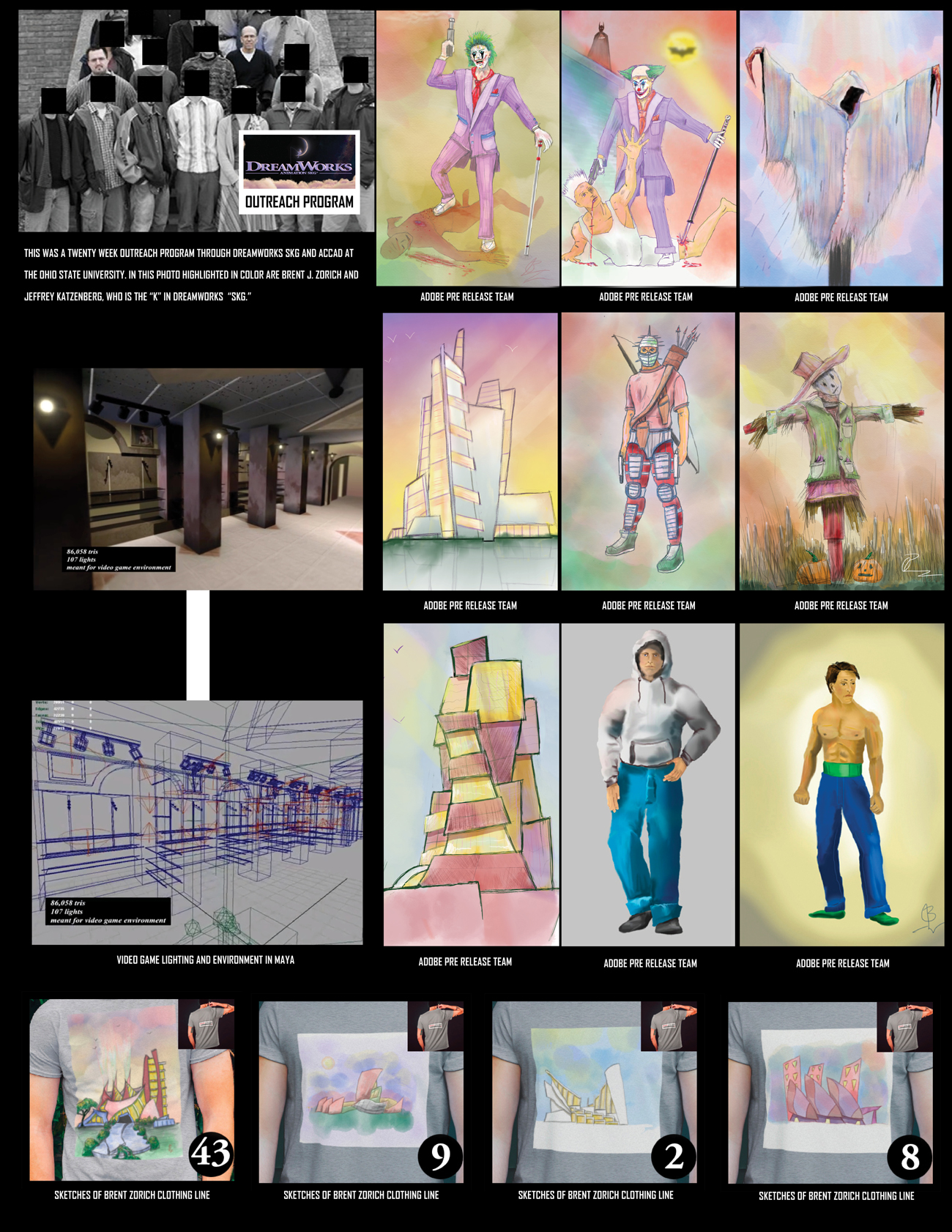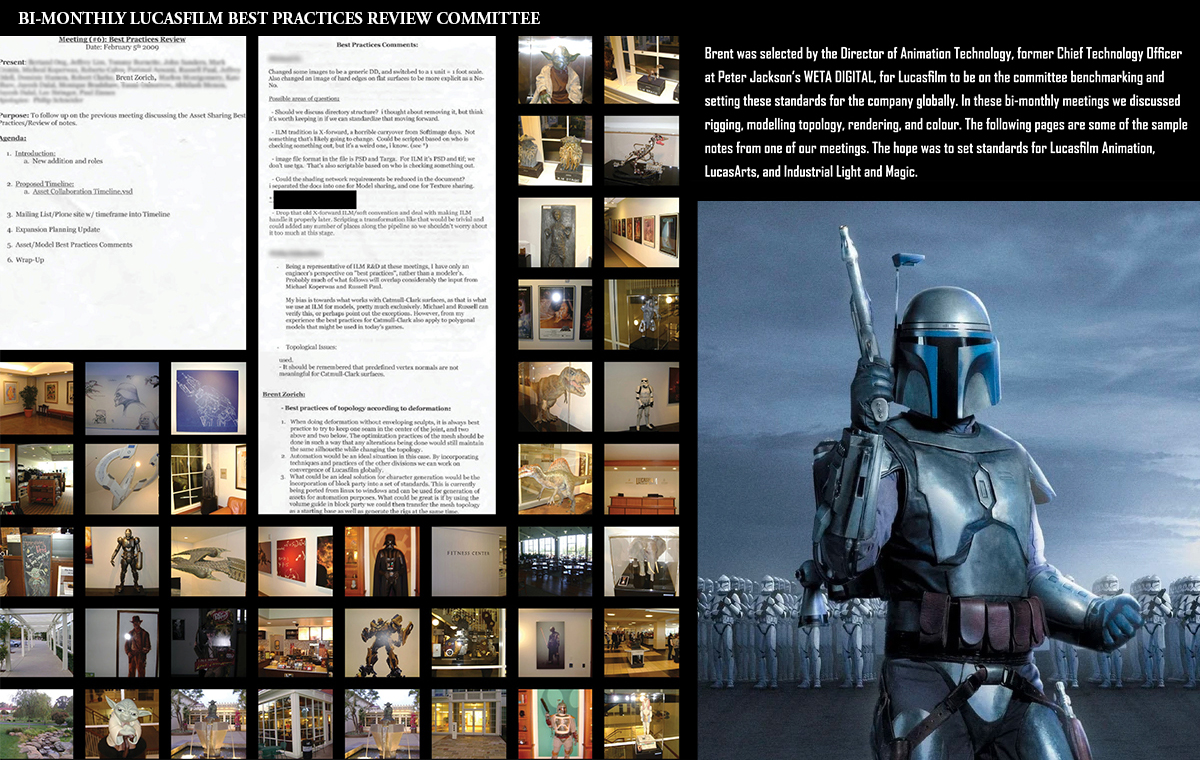 SIGNATURE COLOR CORRECTION

CAD BANE IN "STAR WARS: THE CLONE WARS"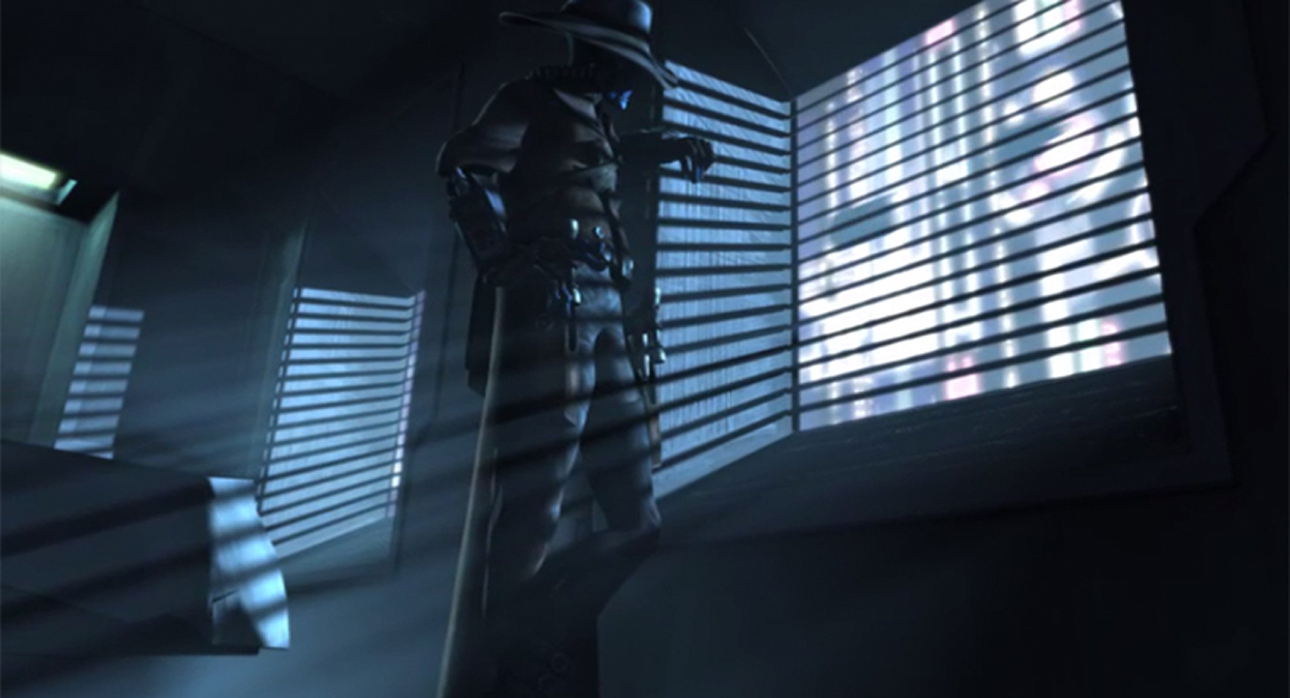 SIGNATURE COLOR CORRECTION

OBI-WAN KENOBI IN "STAR WARS: THE CLONE WARS"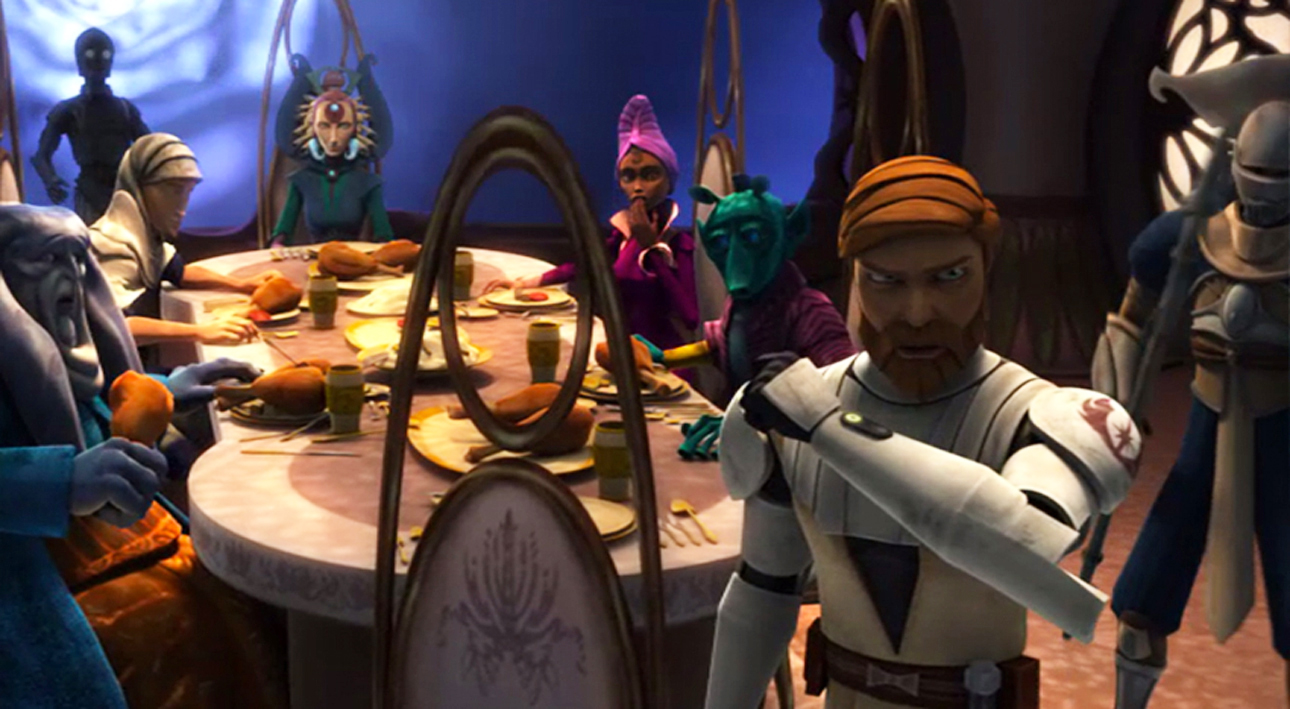 SIGNATURE COLOR CRITIQUING

OPTIMUS PRIME IN "TRANSFORMERS REVENGE OF THE FALLEN"

THIS TOOK PLACE IN WEEKLY INDUSTRIAL LIGHT & MAGIC CREATURE RESEARCH & DEVELOPMENT MEETINGS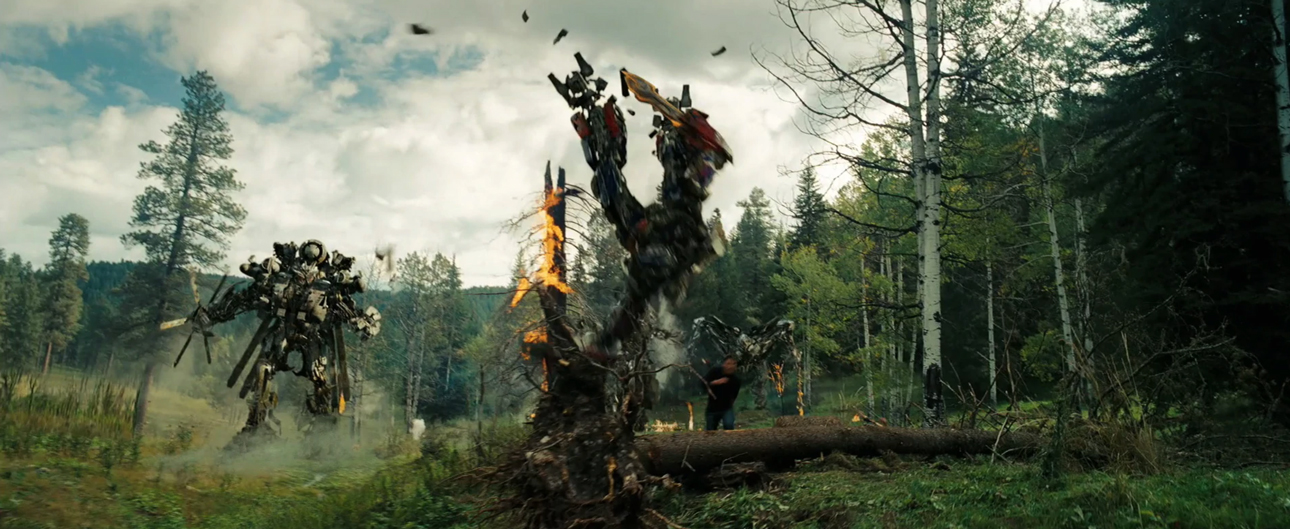 SIGNATURE RIGGING

BOBA FETT IN "STAR WARS: THE FORCE UNLEASHED"
SIGNATURE RIGGING

REDESIGNED THE RIGGING SYSTEM ON "MADDEN NFL"

THIS IS ELECTRONIC ARTS TOP TITLE IN NORTH AMERICA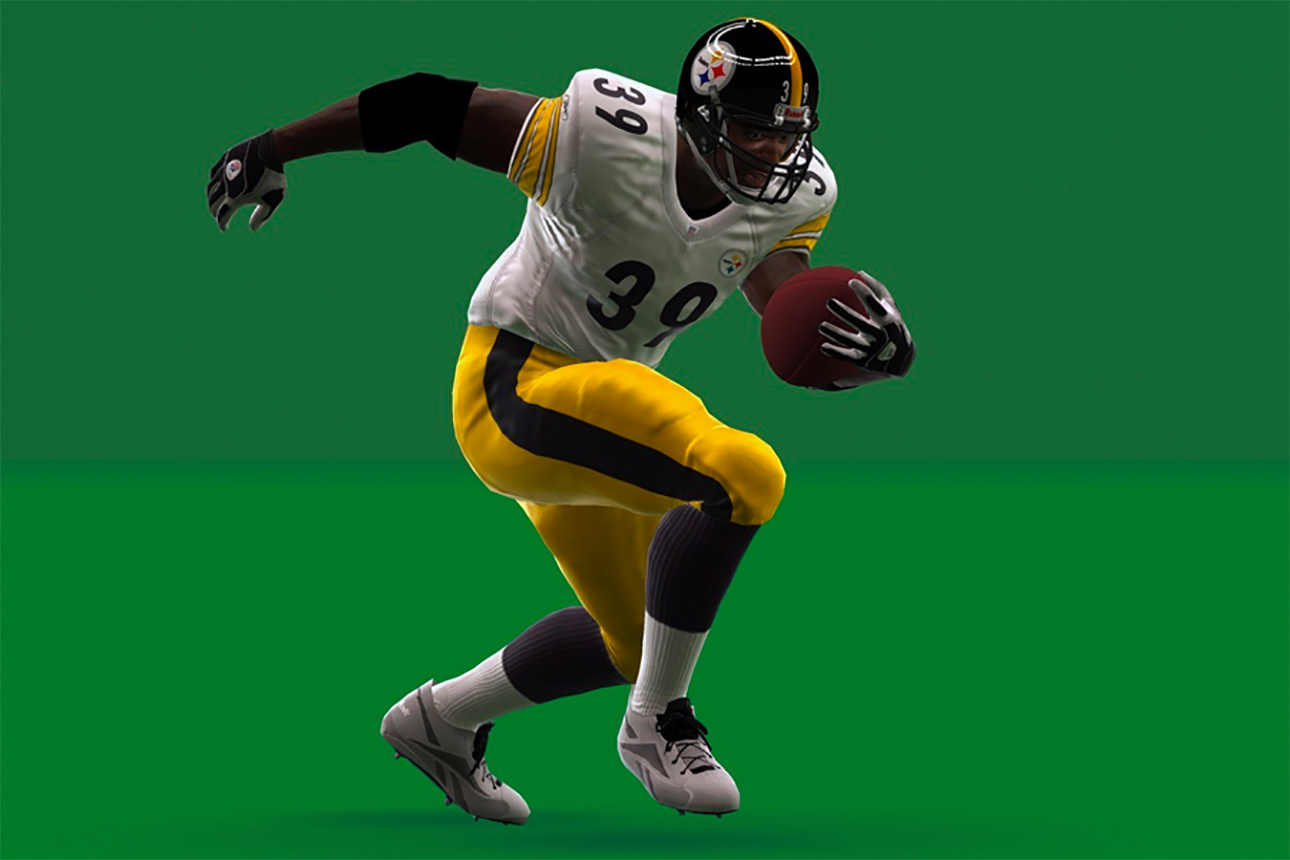 SIGNATURE RIGGING

FILM GAME CONVERGENCE ACCOMPLISHED AT LUCASFILM ANIMATION SINGAPORE

CONVERGING THE RIGS OF ILM'S "ATTACK OF THE CLONES" JANGO FETT AND TV'S "CLONE WARS" AHSOKA TANO INTO A PLAYABLE BUILD ON THE XBOX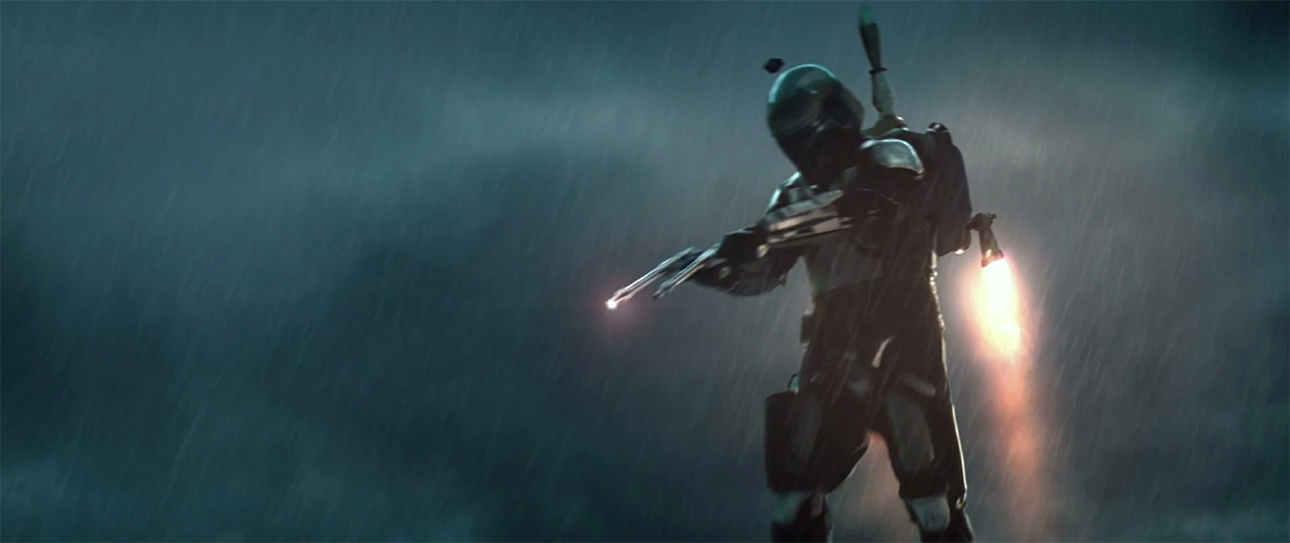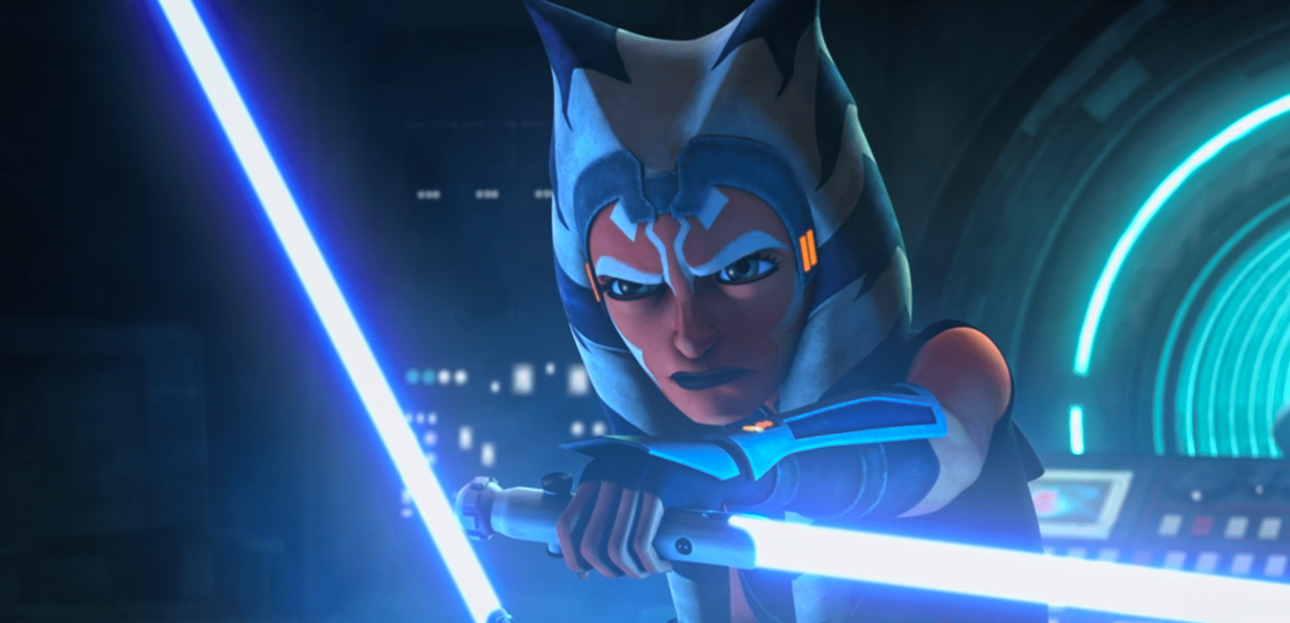 SIGNATURE RIGGING

'ULTIMATE EVIL' IN "STAR WARS: THE FORCE UNLEASHED"

THIS IS THE COVER CHARACTER OF ONE OF/ IF NOT BIGGEST 'STAR WARS' VIDEO GAMES OF ALL TIME
MY AUTORIGGER TECHNOLOGY I

AUTHORED VALUED AT 20 MILLION

ANIMATIONS AFTER MY AUTORIGGER RIGGED AND SKINNED

CHARACTERS IN 10 MINUTES (TYPICALLY 80 HOURS)
RIGGED AND SKINNED

IN 10 MINUTES

WITH MY AUTORIGGER

(typically 80 hours)

RESEARCH

MY AUTORIGGER (SEE TO THE LEFT) COMPLETES ANIMATION TASKS AT THE

QUALITY OF "SHREK" IN A FRACTION OF THE TIME. THIS IS A 10 MINUTE RIG

WITH A 20 MINUTE WALK CYCLE COMPETING WITH HERO SHOTS ON

"SHREK", A TOP GROSSING FILM THAT THEY MOST LIKELY SPENT 8 WEEKS ON.

< == CASE STUDY
| | | |
| --- | --- | --- |
| | | |
| | AUTORIGGER CONTROL FEATURES | |
| | | |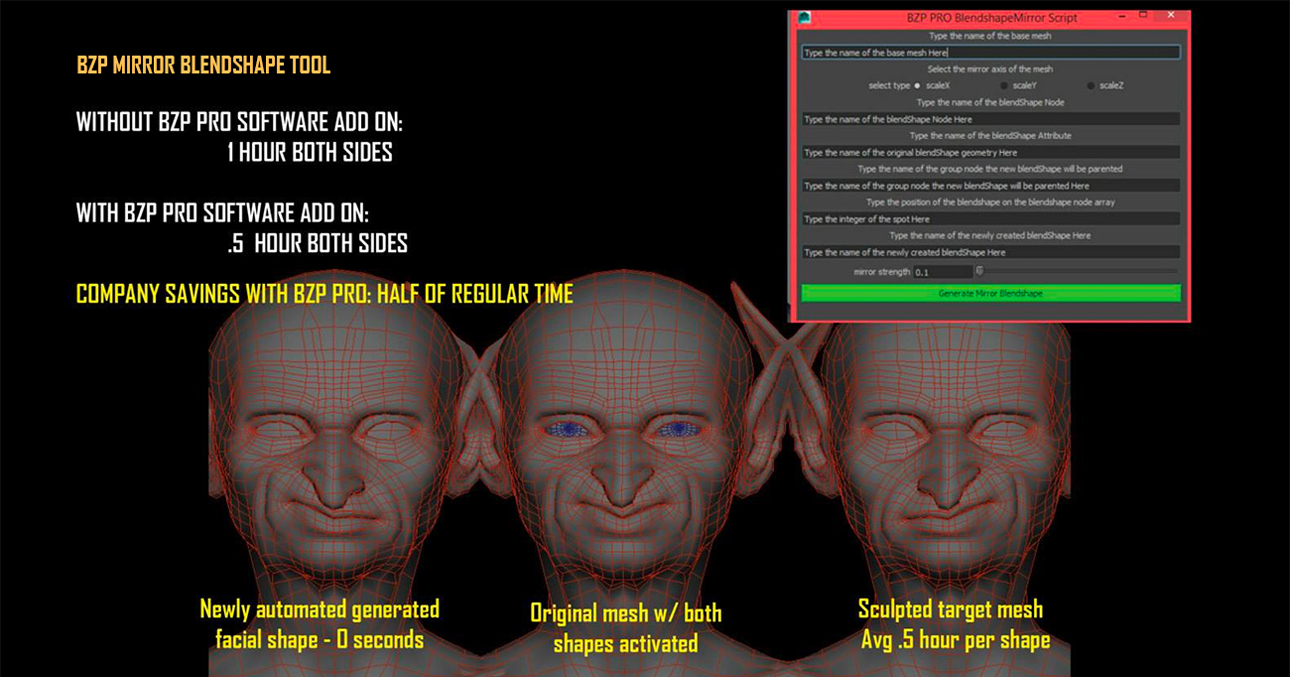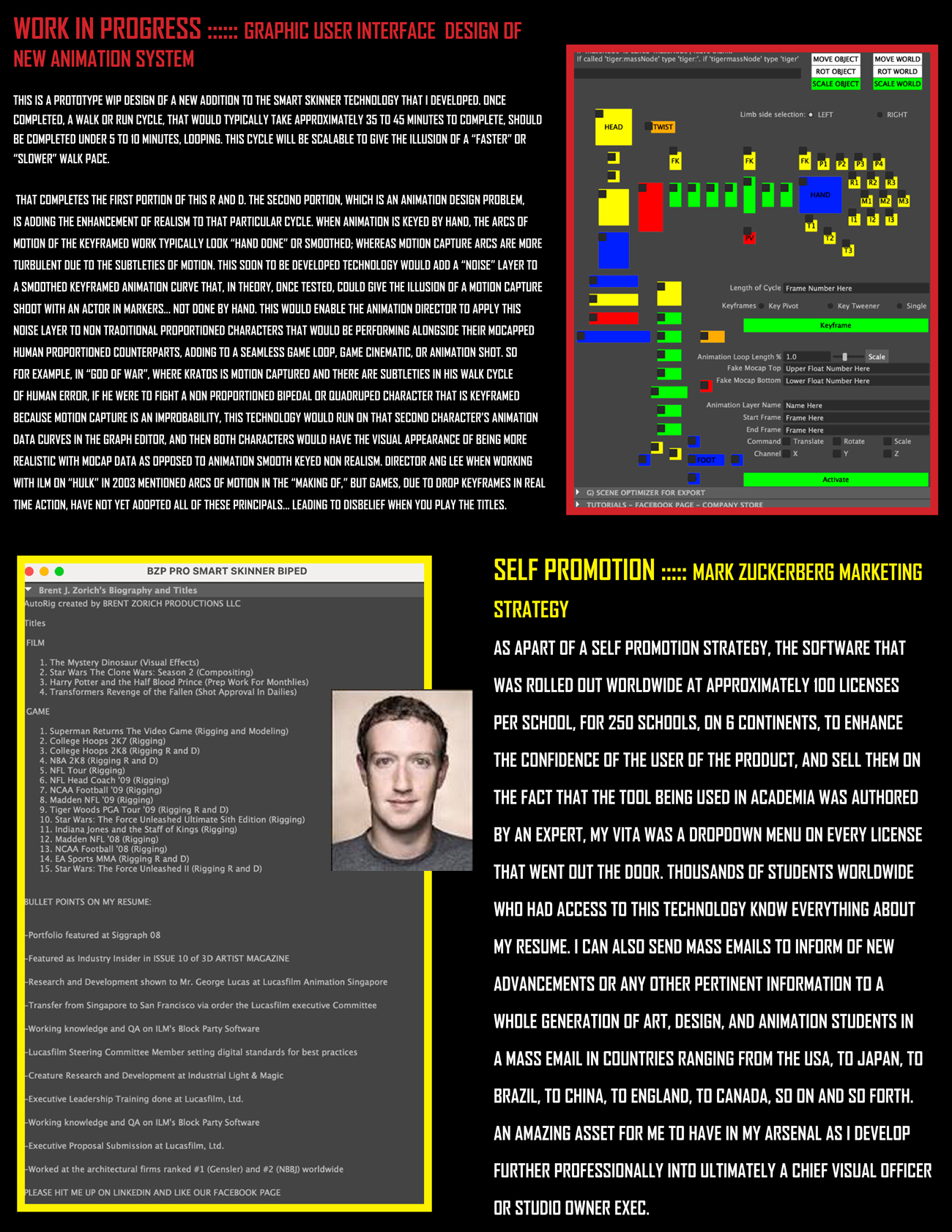 SIGNATURE ARCHITECTURE

DESIGNS FROM THE TWO LARGEST ARCHITECTURE FIRMS IN THE WORLD

APPLICABLE TO BEING A CHIEF VISUAL OFFICER AT A MAJOR VIDEO GAME STUDIO
FIRST ENTREPRENEURIAL VENTURE

FIVE ACQUISITION REVIEWS FOR 20 MILLION

LLC IS COVER OF A WORLDWIDE MAGAZINE WITH A BOOTH AT SIGGRAPH AND GDC
BZP PRO (AUTODESK AUTHORIZED DEVELOPER)
20 MILLION DOLLAR VALUED AUTORIGGER VALUATED BY BUSINESS
PARTNER OF THE HOTH SUPERVISOR ON 'THE EMPIRE STRIKES BACK'
• Design based off of work experiences at ILM •
• Video test on character from Sony Pictures •
• 250 schools on 6 continents received this technology •
• For source code acquisition inqueries contact on linkedin •
MODULAR ENGINEERING SYSTEM IN PRACTICE

90 HOURS OF WORK COMPLETED IN 15 MINUTES

EXECUTED AS A CASE STUDY ON THE "BALROG" FROM "THE LORD OF THE RINGS: THE TWO TOWERS"
SECOND ENTREPRENEURIAL VENTURE
FEATURED IN THE WALL STREET JOURNAL'S MARKET WATCH
APPROACHED BY INTERNATIONAL PR FIRMS ABOUT PLACING THE PRODUCT LINE IN BOTH "GQ" AND "VOGUE"

| | |
| --- | --- |
| | |
| | FEATURED IN OVER 250 MEDIA |
| | OUTLETS INCLUDING .... |
| | |
| | ALLOW 3 WEEKS |
| | FOR SHIPPING |
"SKETCHES OF BRENT ZORICH" ONLINE STORE
PRICES ARE BOTH $24.00 AND $27.00
| | | | | |
| --- | --- | --- | --- | --- |
| | | | | |
| | | | | |
| [ CLICK IMAGE TO PURCHASE ] | | [ CLICK IMAGE TO PURCHASE ] | | [ CLICK IMAGE TO PURCHASE ] |
| | | | | |
| | | | | |
| [ CLICK IMAGE TO PURCHASE ] | | [ CLICK IMAGE TO PURCHASE ] | | [ CLICK IMAGE TO PURCHASE ] |
| | | | | |
| | | | | |
| [ CLICK IMAGE TO PURCHASE ] | | [ CLICK IMAGE TO PURCHASE ] | | [ CLICK IMAGE TO PURCHASE ] |
| | | | | |
| | | | | |
| [ CLICK IMAGE TO PURCHASE ] | | [ CLICK IMAGE TO PURCHASE ] | | [ CLICK IMAGE TO PURCHASE ] |
| | | | | |
| | | | | |
| [ CLICK IMAGE TO PURCHASE ] | | [ CLICK IMAGE TO PURCHASE ] | | [ CLICK IMAGE TO PURCHASE ] |
| | | | | |
| | | | | |
| [ CLICK IMAGE TO PURCHASE ] | | [ CLICK IMAGE TO PURCHASE ] | | [ CLICK IMAGE TO PURCHASE ] |
| | | | | |
| | | | | |
| [ CLICK IMAGE TO PURCHASE ] | | [ CLICK IMAGE TO PURCHASE ] | | [ CLICK IMAGE TO PURCHASE ] |
| | | | | |
| | | | | |
| [ CLICK IMAGE TO PURCHASE ] | | [ CLICK IMAGE TO PURCHASE ] | | [ CLICK IMAGE TO PURCHASE ] |
| | | | | |
| | | | | |
| [ CLICK IMAGE TO PURCHASE ] | | [ CLICK IMAGE TO PURCHASE ] | | [ CLICK IMAGE TO PURCHASE ] |
| | | | | |
| | | | | |
| [ CLICK IMAGE TO PURCHASE ] | | [ CLICK IMAGE TO PURCHASE ] | | [ CLICK IMAGE TO PURCHASE ] |
| | | | | |
| | | | | |
| [ CLICK IMAGE TO PURCHASE ] | | [ CLICK IMAGE TO PURCHASE ] | | [ CLICK IMAGE TO PURCHASE ] |
| | | | | |
| | | | | |
| [ CLICK IMAGE TO PURCHASE ] | | [ CLICK IMAGE TO PURCHASE ] | | [ CLICK IMAGE TO PURCHASE ] |
| | | | | |
| | | | | |
| [ CLICK IMAGE TO PURCHASE ] | | [ CLICK IMAGE TO PURCHASE ] | | [ CLICK IMAGE TO PURCHASE ] |
| | | | | |
| | | | | |
| [ CLICK IMAGE TO PURCHASE ] | | [ CLICK IMAGE TO PURCHASE ] | | [ CLICK IMAGE TO PURCHASE ] |
| | | | | |
| | | | | |
| [ CLICK IMAGE TO PURCHASE ] | | [ CLICK IMAGE TO PURCHASE ] | | [ CLICK IMAGE TO PURCHASE ] |
| | | | | |
| | | | | |
| [ CLICK IMAGE TO PURCHASE ] | | [ CLICK IMAGE TO PURCHASE ] | | [ CLICK IMAGE TO PURCHASE ] |
| | | | | |
| | | | | |
| [ CLICK IMAGE TO PURCHASE ] | | [ CLICK IMAGE TO PURCHASE ] | | [ CLICK IMAGE TO PURCHASE ] |
| | | | | |
| | | | | |
| [ CLICK IMAGE TO PURCHASE ] | | [ CLICK IMAGE TO PURCHASE ] | | [ CLICK IMAGE TO PURCHASE ] |
| | | | | |
| | | | | |
| [ CLICK IMAGE TO PURCHASE ] | | | | |
| | | | | |
| --- | --- | --- | --- | --- |
| | | | | |
| | | | | |
| [ CLICK IMAGE TO PURCHASE ] | | [ CLICK IMAGE TO PURCHASE ] | | [ CLICK IMAGE TO PURCHASE ] |
| | | | | |
| | | | | |
| [ CLICK IMAGE TO PURCHASE ] | | [ CLICK IMAGE TO PURCHASE ] | | [ CLICK IMAGE TO PURCHASE ] |
| | | | | |
| | | | | |
| [ CLICK IMAGE TO PURCHASE ] | | [ CLICK IMAGE TO PURCHASE ] | | [ CLICK IMAGE TO PURCHASE ] |
| | | | | |
| | | | | |
| [ CLICK IMAGE TO PURCHASE ] | | [ CLICK IMAGE TO PURCHASE ] | | [ CLICK IMAGE TO PURCHASE ] |
| | | | | |
| | | | | |
| [ CLICK IMAGE TO PURCHASE ] | | [ CLICK IMAGE TO PURCHASE ] | | [ CLICK IMAGE TO PURCHASE ] |
| | | | | |
| | | | | |
| [ CLICK IMAGE TO PURCHASE ] | | [ CLICK IMAGE TO PURCHASE ] | | [ CLICK IMAGE TO PURCHASE ] |
| | | | | |
| | | | | |
| [ CLICK IMAGE TO PURCHASE ] | | [ CLICK IMAGE TO PURCHASE ] | | [ CLICK IMAGE TO PURCHASE ] |
| | | | | |
| | | | | |
| [ CLICK IMAGE TO PURCHASE ] | | [ CLICK IMAGE TO PURCHASE ] | | [ CLICK IMAGE TO PURCHASE ] |

PRICES ARE $12.00, $36.00, AND $9.00
| | | | | |
| --- | --- | --- | --- | --- |
| | | | | |
| | | | 50 | |
| [ CLICK IMAGE TO PURCHASE ] | | [ CLICK IMAGE TO PURCHASE ] | | [ CLICK IMAGE TO PURCHASE ] |
| | | | | |
| | | | | |
| [ CLICK IMAGE TO PURCHASE ] | | [ CLICK IMAGE TO PURCHASE ] | | [ CLICK IMAGE TO PURCHASE ] |
| | | | | |
| | | | | |
| [ CLICK IMAGE TO PURCHASE ] | | [ CLICK IMAGE TO PURCHASE ] | | [ CLICK IMAGE TO PURCHASE ] |
| | | | | |
| | | | | |
| [ CLICK IMAGE TO PURCHASE ] | | [ CLICK IMAGE TO PURCHASE ] | | [ CLICK IMAGE TO PURCHASE ] |
| | | | | |
| | | | | |
| [ CLICK IMAGE TO PURCHASE ] | | [ CLICK IMAGE TO PURCHASE ] | | [ CLICK IMAGE TO PURCHASE ] |
| | | | | |
| | | | | |
| [ CLICK IMAGE TO PURCHASE ] | | [ CLICK IMAGE TO PURCHASE ] | | [ CLICK IMAGE TO PURCHASE ] |
| | | | | |
| | | | | |
| [ CLICK IMAGE TO PURCHASE ] | | [ CLICK IMAGE TO PURCHASE ] | | [ CLICK IMAGE TO PURCHASE ] |
| | | | | |
| | | | | |
| [ CLICK IMAGE TO PURCHASE ] | | [ CLICK IMAGE TO PURCHASE ] | | [ CLICK IMAGE TO PURCHASE ] |
| | | | | |
| | | | | |
| [ CLICK IMAGE TO PURCHASE ] | | [ CLICK IMAGE TO PURCHASE ] | | [ CLICK IMAGE TO PURCHASE ] |
| | | | | |
| | | | | |
| [ CLICK IMAGE TO PURCHASE ] | | [ CLICK IMAGE TO PURCHASE ] | | [ CLICK IMAGE TO PURCHASE ] |
| | | | | |
| | | | | |
| [ CLICK IMAGE TO PURCHASE ] | | [ CLICK IMAGE TO PURCHASE ] | | [ CLICK IMAGE TO PURCHASE ] |
| | | | | |
| | | | | |
| [ CLICK IMAGE TO PURCHASE ] | | [ CLICK IMAGE TO PURCHASE ] | | [ CLICK IMAGE TO PURCHASE ] |
| | | | | |
| | | | | |
| [ CLICK IMAGE TO PURCHASE ] | | [ CLICK IMAGE TO PURCHASE ] | | [ CLICK IMAGE TO PURCHASE ] |
| | | | | |
| | | | | |
| [ CLICK IMAGE TO PURCHASE ] | | [ CLICK IMAGE TO PURCHASE ] | | |
END OF ONLINE STORE
PERSONAL FINANCIAL DESIGN

SETTING UP MULTIPLE REVENUE STREAMS OFF OF "CASH COWS"

LAYING THE GROUND WORK TO EARN A POTENTIAL OF OVER SIX FIGURES IN PASSIVE INCOME ALONE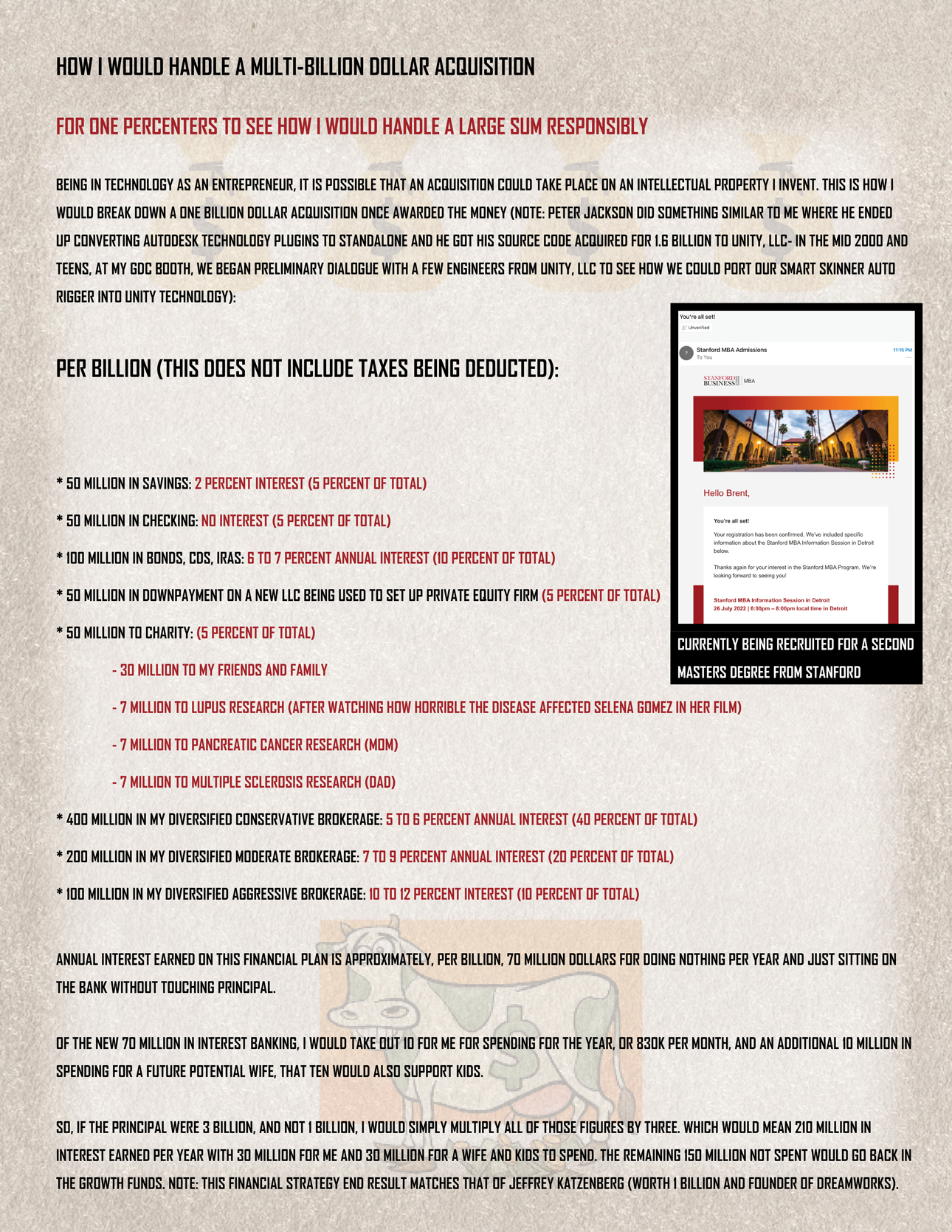 PERSONAL FINANCIAL DESIGN: SETTING

UP "CASH COWS"

INVESTOR

2022-Current
| | | | |
| --- | --- | --- | --- |
| | | | |
| | The Ten "Cash Cows": | | |
| | | | |
| • | 2 MONETIZED WEBSITES SELLING CLOTHNG | | (sketchesofbrentzorich.com & brentzorich.com) |
| | | | |
| • | 3 SIX DIGIT DIVERSIFIED BROKERAGES | | (Merrill Lynch) |
| | | | |
| • | AGGRESSIVE SIX DIGIT INVESTED IRA | | (Charles Schwab) |
| | | | |
| • | AGGRESSIVE STOCK FUND | | (Merrill Lynch) |
| | | | |
| • | BZP PRO CITY BUILDER TOOL | | (Highend3D) |
| | | | |
| • | 'STASH' INDEPENDENT STOCK INVESTMENTS | | |
| | | | |
| • | 'FUNDRISE' REAL ESTATE INVESTMENTS | | |
| | | | |
| | |
| --- | --- |
| | |
| • | Potential with my investment team to bring back six digit annual returns based on interest of investments alone. |
| | |
| • | On the Merrill Six Digit Diversified Brokerages alone, on certain days, over $1500.00 is generated in interest in just one day. |
"SKETCHES OF BRENT ZORICH"

(A CASUAL CLOTHING LINE)
FOUNDER

2021-Current
| | | | |
| --- | --- | --- | --- |
| | | | |
| • | ADOBE ILLUSTRATED T-SHIRT LINE | | (using drawings from the ipad) |
| | | | |
| • | ADOBE ILLUSTRATED HOODIE LINE | | (using drawings from the ipad) |
| | | | |
| • | ADOBE ILLUSTRATED PRINT LINE | | (using drawings from the ipad) |
| | | | |
| | |
| --- | --- |
| | As an entrepreneur: |
| | |
| • | Launched casual apparel using my Adobe CGI illustrations as prints in online venues. |
| | |
| • | Due to self promotion, attracted a PR firm from Chicago that launched an advertising campaign to over 100 media outlets nationally- being featured in The Wall Street Journal's Market Watch. |
| | |
| • | Made such big strides as an entrepreneur that Michael Jackson's Publicist contacted about representing me. |
| | |
| • | I have been approached by international marketing and PR firms about getting the clothing brand to be featured in "GQ" and "Vogue" magazine. |
REPUBLICAN PRESIDENTIAL TASK FORCE FOR

PRESIDENT DONALD J. TRUMP

VOLUNTEER

2020
| | | |
| --- | --- | --- |
| CONTINUING STUDIES IN LINEAR ALGEBRA | STANFORD UNIVERSITY | 2020 |
| | | |
| --- | --- | --- |
| ADOBE, INC. | • PHOTOSHOP IOS AND OS PRERELEASE TEAM | 2019-Current |
| | | | |
| --- | --- | --- | --- |
| | | | |
| • | PHOTOSHOP QA FOR APPLE'S IPAD PRO 2 | | (selected due to expertise in the area and reputation) |
| | | | |
BZP PRO LLC (AUTODESK AUTH DEV)

• CO-FOUNDER
• CHIEF CREATIVE OFFICER
• PRINCIPAL TECHNICAL ARTIST

2011-Current
| | | | |
| --- | --- | --- | --- |
| | | | |
| • | WALT DISNEY FEATURE ANIMATION RIGGING PROTOTYPING | | (incorporating motion capture HIK to Disney Feature Rigs for "proof of concept") |
| | | | |
| • | RIGR RIGGING PIPELINE SOFTWARE | | (workflow author from Art=> Skeleton=> Skinning=> ILM Level Control Rig/ Mocap=> In Game Optimized) |
| | | | |
| • | SMART SKINNER BIPED/ QUADRUPED SOFTWARE | | (author of Autodesk software that automates 110 hours of character technical construction into 30 minutes) |
| | | | |
| • | SONY ASYMMETRICAL RIGGING PROTOTYPING | | (Smart Skinner Biped used on character of David Bautista from "Guardians of the Galaxy VOL 2" for proof of concept) |
| | | | |
| • | SONY SYMMETRICAL RIGGING PROTOTYPING | | (Via our sister company, Vitruvian Entertainment: 240 hours of ILM level rigging completed in 70 minutes) |
| | | | |
| • | SMART SKINNER VERSION 2 | | (author of Autodesk software that automates modular technology for tails, wings, tentacles, toes) |
| | | | |
| • | VOXX STUDIOS | | (NDA rigging for TV show pitch) |
| | | | |
| • | DRA (DESIGN REPLACES ART) SOFTWARE | | (In development: technology to assist concept artists) |
| | | | |
| • | "CITY OF THE SHROUD" | | (Rigging cleanup for Abyssal Arts) |
| | | | |
| | |
| --- | --- |
| | As an entrepreneur: |
| | |
| 1. | Cofounded a LLC with Harvard and Yale alum that is engaged to Rev1 Ventures. |
| | |
| 2. | Held booths at the two biggest conferences in entertainment: Siggraph and GDC. Over 7 million in verbal commitments. |
| | |
| 3. | Singlehandedly engineered a rigging technology software product that consolidates 80 hours of rigging work into 15 minutes at the level of Industrial Light & Magic (previous employer). |
| | |
| 4. | After presenting the technology to a publisher of a worldwide magazine, the rigging technology was included in the worldwide magazine's accompanying dvd disc. |
| | |
| 5. | Due to innovation, made the cover of a worldwide magazine which showcased the product due to software's "functionality" and "ease of use." |
| | |
| 6. | Received public recommendations for the product from several key people in the computer graphics industry including the Siggraph Conference Chairperson. |
| | |
| 7. | Co-designed a "freemium" model marketing strategy out penetrating FACEBOOK LLC pre angel investment where 250 universities on six continents received product accompanied by guest lecturing. |
| | |
| 8. | Have had three Fortune 500 companies (one of the firms being worth 120 billion) submit non disclosures in regards to acquisition of the LLC that were brokered by a former Harvard banking alum of Goldman Sachs. Discussions were held with a fourth international Chinese company by the Goldman Sachs broker as well in regards to acquisition. |
| | |
| 9. | Due to the disruptive nature of the technology I authored, advised by one of the affiliates of one of the founders of Industrial Light & Magic to not sell in an acquisition below 20 million dollars. This particular person was the affiliate of the AT-AT/ Imperial Walker Supervisor on the Battle of Hoth in Star Wars Episode V: The Empire Strikes Back. |
| | |
| 10. | Interview, screen, and negotiate for BZP equity, including the firm of Kevin O'Leary (ABC's Shark Tank): raised investment money for BZP from Harvard and Yale. |
| | |
| 11. | This LLC was initially designed to be an online monetized standalone cash cow with little maintenance enabling the partners to work on other projects. This cash cow was to sell Autodesk Maya plug-ins online with the difficult task of making money with an addressable market of only 100,000 Autodesk licenses worldwide that could use our technology. Very small. In a situation like this, although we sold in the tens of thousands in plug-in sales, we had a choice, either raise capital to make the plug-in a stand-alone software with a larger addressable market, or try to get the plug-in source code acquired by a major technology firm. We decided to try to get the source code acquired and were under review five times for a multi million dollar amount, with five NDAS unable to discuss the negotiations. |
| | |
| • | NOTE: MY LLC HAS BEEN UNDER ACQUISITION REVIEW FIVE TIMES WITH THREE SEPARATE FORTUNE 500 COMPANIES DUE TO TECHNOLOGY I WROTE ENTIRELY MYSELF. |
| | | |
| --- | --- | --- |
| MASTERS DEGREE | ACCAD AT THE OHIO STATE UNIVERSITY | 01-04, 10-11 |
LUCASFILM, LTD.
• LUCASFILM ANIMATION SINGAPORE (OFFER LTR)
• LUCASARTS (BUSINESS CARD)
• INDUSTRIAL LIGHT & MAGIC (HR BENEFITS)




• SENIOR TECHNICAL ARTIST
• CORPORATE EXECUTIVE TRAINEE
• BEST PRACTICES STEERING COMMITTEE

2008-2009
•
"STAR WARS THE FORCE UNLEASHED
ULTIMATE SITH EDITION"
(lead character technical construction and submitted concept artwork)
•
"INDIANA JONES AND THE STAFF OF KINGS"
(character technical construction and character deformation R & D)- A Steven Spielberg Project
•
"STAR WARS THE CLONE WARS: SEASON TWO"
(color correction & compositing on two episodes- shots include Cad Bane and Obi-Wan Kenobi)- shown at annual firm wide meeting
•
"TRANSFORMERS REVENGE OF THE FALLEN"
(shot approval in dailies at weekly Industrial Light & Magic Creature R & D meetings- shots include Optimus Prime and Devastator)
•
"STAR WARS THE FORCE UNLEASHED II"
(initial kickoffs, shared assets, file management, character technical construction research and development)
•
"HARRY POTTER AND THE HALF BLOOD PRINCE"
(shot prep for monthlies approved by the head of ILM Singapore- Shots include Harry Potter and Professor Dumbledore)
| | |
| --- | --- |
| • | Key Achievement: Due to being one of the top people in the top company in computer animation/ graphics/ and video games, promoted, salary increased, and relocated from Singapore to San Francisco after only five months. |
| | |
| • | Invited by The Director of Animation Technology, former CTO of Peter Jackson's WETA Digital, to be on the Steering Committee setting "Best Practices" for LucasArts, Lucasfilm Animation, and ILM. |
| | |
| • | Invited to the prestigious Skywalker Ranch on numerous occasions to obtain extensive research that was incorporated into characters Boba Fett and Jabba the Hutt. |
| | |
| • | Converged the Emmy Award winning film Ahsoka Tano with ILM's Oscar Nominated Jango Fett into an optimised character working in the Unreal Engine that was approved directly by Mr. George Lucas in Singapore. |
| | |
| • | Referred to by the project manager on the film game convergence crew in Singapore, who was a ten year Sony veteran and had worked in games since the 1980's, as the "top rigger" in the industry. |
| | |
| • | Due to the astonishment on the Singapore floor of the technical team after I technically constructed one of my convergence rigs, I began to be referred to on the floor as "God." |
| | |
| • | Character exploration, documentation, and benchmarking, of Star Wars IP rigging assets such as General Grievous, The Emperor, Ahsoka Tano, Kit Fisto, Lord Vader, and Anakin Skywalker, in Singapore. |
| | |
| • | Quality assurance, animation cycle testing, exploration, and technical documentation on standard ILM biped, quadruped, and winged characters in Singapore. |
| | |
| • | Invited into highly coveted Creature Research and Development meetings at Industrial Light & Magic after demonstrating technical ability to ILM Department Supervisor. |
| | |
| • | Admitted into Lucasfilm Executive training via Engaged Leadership LLC after proving strong leadership qualities for the team. I went through executive training before my own manager did. |
| | |
| • | The President of LucasArts positively reviewed my executive proposal entitled Offensive Attack Strategy about attacking Lucasfilm opposition and passed it on to the Board of Directors. |
| | |
| • | Executive Recruiting: After the firm wide viewing of Quantum of Solace, the Vice President of LucasArts had me accompany him to lunch in Sausalito to assist with recruiting corporate staff of Electronic Arts (Fifa) for Lucasfilm. |
| | |
| • | One of the characters completed with under my lead technical direction, Ultimate Evil, was chosen as the cover of Star Wars The Force Unleashed, a very prestigious honor. |
| | |
| • | Documented and extracted key assets of ILM's rigging software, Block Party 1, to do quality assurance against Autodesk Maya for multi divisional usage. |
ELECTRONIC ARTS

• ASSOCIATE TECHNICAL ARTIST
• LEAD RIGGER ON CENTRAL FOOTBALL

2005, 07-08
| | | | |
| --- | --- | --- | --- |
| | | | |
| • | "MADDEN NFL 08" | | (shoulder pad research and development. football player skinning) |
| | | | |
| • | "NCAA FOOTBALL 08" | | (shoulder pad research and development. football player skinning) |
| | | | |
| • | "EA SPORTS MMA" | | (prototype rig development) |
| | | | |
| • | "TIGER WOODS PGA 09" | | (prototype rig development) |
| | | | |
| • | "NFL TOUR" | | (in charge of character technical construction for all characters in title) |
| | | | |
| • | "NFL HEAD COACH 09" | | (in charge of character technical construction for all characters in title) |
| | | | |
| • | "MADDEN NFL 09" | | (in charge of character technical construction for all characters in title) |
| | | | |
| • | "NCAA FOOTBALL 09" | | (in charge of character technical construction for all characters in title) |
| | | | |
| • | "SUPERMAN RETURNS" | | (character technical construction of dragon villain character and modeling of Lex Luthor's wardrobe) |
| | | | |
| • | "FIFA 09" | | (global rigging guidance between EA Orlando and EAC Vancouver's Bodyshop) - rig swapping |
| | | | |
| • | "NHL 09" | | (global rigging guidance between EA Orlando and EAC Vancouver's Bodyshop) - rig swapping |
| | | | |
| • | "FACEBREAKER" | | (global rigging guidance between EA Orlando, EA London, and EAC Vancouver's Bodyshop) - rig swapping |
| | | | |
| • | "NBA LIVE 09" | | (global rigging guidance between EA Orlando and EAC Vancouver's Bodyshop) - rig swapping |
| | | | |
| • | "HARRY POTTER AND THE ORDER OF THE PHOENIX" | | (global rigging guidance between EA Orlando and EA London) - rig swapping |
| | | | |
| | |
| --- | --- |
| • | Key Achievement: Salary increased after only three months with Linkedin endorsements from both my manager (The Dev Director of Central Render) and the main Producer of MADDEN NFL. |
| | |
| • | After proving technical abilities, invited into monthly global meetings assisting on rigging with EA SPORTS' "Global Rigging Bodyshop" (FIFA, NHL, Fight Night, included). |
| | |
| • | Pitch to heads of Central Football about EA SPORTS working with NIKE to collaborate on biomechanics and motion capture after requested how to improve the team. |
| | |
| • | Redesigned the football rigging system based on anatomical proportions as opposed to cartoony exaggeration that used the studio custom quaternion node and was implemented on all football titles going forward. |
| | |
| • | 10,000 animations (entire football animation library) retargeted to my rigging setup's redesign on EA SPORTS top grossing multi billion dollar annual title: MADDEN NFL (Central Football). |
| | |
| • | Due to the art directors on Central Football being concerned that I was going to leave the studio after only two months due to my frustrations with the EA Orlando lack of talent of technical knowledge, they took me to lunch and sold me on staying for an additional year; claiming me to be one of the top talents in all of EA. |
| | |
| • | Due to the outstanding job done as an intern on Superman Returns with the citizen modeling as well as dragon rigging, awarded the task of creating Lex Luthor's wardrobe for the title, a task typically given to a senior character director. |
| | | |
| --- | --- | --- |
| 2K SPORTS (TAKE 2 INTERACTIVE) | CHARACTER TECHNICAL DIRECTOR | 2006 |
| | | | |
| --- | --- | --- | --- |
| | | | |
| • | "COLLEGE HOOPS 2K7" | | (shoulder deformation tweaking. cheerleader character technical construction) |
| | | | |
| • | "COLLEGE HOOPS 2K8" | | (character technical construction research and development) |
| | | | |
| • | "NBA 2K8" | | (character technical construction research and development- tested on data of Shaquille O'Neal) |
| | | | |
| | | |
| --- | --- | --- |
| THE OHIO STATE UNIVERSITY | GRADUATE ASSOCIATESHIP | 2005 |
| | | |
| --- | --- | --- |
| DREAMWORKS SKG OUTREACH PROGRAM | 20 WEEK PARTICIPANT VIA ACCAD AT THE OHIO STATE UNIVERSITY | 2005 |
| | |
| --- | --- |
| • | Key Achievement: Attended lecture session q and a with Jeffrey Katzenberg. |
| | |
| • | Trained in computer graphics by Supervisors that worked collectively on Spider-Man 2, Madagascar, Finding Nemo, Shark Tale, Shrek, and Spirit. |
| | |
| • | Gave lecture session at the Wexner Center for the Arts on Computer Graphics to College of the Arts and Computer Science students at Ohio State. |
| | | |
| --- | --- | --- |
| BRAVE NEW PICTURES (THE DISCOVERY CHANNEL) | CHARACTER TECHNICAL DIRECTOR/ ANIMATOR/ COMPOSITOR | 2003-2005 |
| | | | |
| --- | --- | --- | --- |
| | | | |
| • | "THE MYSTERY DINOSAUR" | | (rigging, animating, and compositing of photoreal dinosaurs for national televised "Walking With Dinosaurs" piece.) |
| | | | |
| | |
| --- | --- |
| • | Key Achievement: Worked with and studied Paleontology as applied to graphics with The Burpee Museum, Rockford, Illinois, who assisted Dr. Robert Bakker on Steven Spielberg's "Jurassic Park." |
| | |
| • | Took critical reviews and applied to motion tests from weekly dinosaur biomechanics in person lectures. |
| | | |
| --- | --- | --- |
| THE OHIO STATE UNIVERSITY | GRADUATE TEACHING ASSOCIATESHIP | 01-02 |
GENSLER

(THE ARCHITECTURE FIRM RANKED #1 WORLDWIDE)

INTERIOR ARCHITECT

1999-2001
| | | | |
| --- | --- | --- | --- |
| | | | |
| • | ADIDAS | | (store auditing) |
| | | | |
| • | VOLKSWAGEN | | (design and construction documentation) |
| | | | |
| • | LINCOLN MERCURY | | (design development) |
| | | | |
| • | GTE | | (design and construction documentation) |
| | | | |
| • | SALOMON SMITH BARNEY | | (design and construction documentation) |
| | | | |
| | |
| --- | --- |
| • | Key Achievement: Salary increased during employment. |
| | |
| • | Recommended to graduate school at ACCAD at The Ohio State University by a partner in the firm. |
| | |
| • | Gave studio presentation as apart of firm training on Industrial Design, Retail, and Brand. |
| | |
| • | Due to proven illustration ability, flown between Atlanta and Charlotte studios to handle marker rendering. |
| | |
| • | Created technical design and construction documentation of both interior and landscape architecture for Fortune 100 clientele. |
| | |
| • | In studio crit sessions with M. Arthur Gensler, firm founder and most powerful architect on the planet. |
NBBJ

(THE ARCHITECTURE FIRM RANKED #2 WORLDWIDE)

POST GRADUATE INTERN

1998-1999
| | | | |
| --- | --- | --- | --- |
| | | | |
| • | THE REPUBLIC OF CHINA (THE BEIJING HOTEL) | | (material specification and drafting) |
| | | | |
| | |
| --- | --- |
| • | Key Achievement: In crit sessions on Beijing with Friedl Bohm, firm chairman and world famous architect. |
| | | | |
| --- | --- | --- | --- |
| | | | |
| • | JOHN MCCONNELL COACH (OWNER OF COLUMBUS BLUE JACKETS) | | (interior illustrations) |
| | | | |
VISUAL MERCHANDISER AND IN STORE SALES

(ASSISTED IN RETAIL DESIGN KNOWLEDGE)

1995
| | |
| --- | --- |
| | Maya (Master Level of experience), Motion Builder, MEL, Python, Photoshop, ZENO (ILM's software), After Effects, Final Cut, VRML, Pixar's Renderman, Slim, HTML, C++, HIK customization and automation for Motion Capture |

•
DIPLOMA: St. Charles Preparatory High School: Class of 1993 - Scholar Athlete
•
BSID: Bachelor of Science Industrial Design at The Ohio State University: 1998 - Senior Thesis Client: NIKE - Product Invention and CEO Pitch: REEBOK
•
MA: Masters of Arts at the Advanced Computing Center for the Arts and Design (ACCAD) at The Ohio State University: 2011

NOTE: Academic Advisor former head and founder of Computer Animation at The Ringling School of Art and Design

•
CONTINUING STUDIES: Linear Algebra and Engineering at Stanford University: 2020

| | |
| --- | --- |
| • | Undergraduate Industrial Design Department Chairperson's Recipient Scholarship for being The Ohio State Design Student Body President |
| | |
| • | Initiated as a member of Sigma Alpha Epsilon Fraternity |
| | |
| • | Selected to be included in several "Who's Who" annual books showcasing top talent in the United States of America |
| | |
| • | Awarded "1 of the top 100 people in technology and innovation" according to The Intercon Conference sponsored by FACEBOOK and AMAZON |

COFOUNDED AND CEO'D A LLC THAT HAS BEEN FEATURED IN THREE WORLDWIDE MAGAZINES:

COVER STORY

| | |
| --- | --- |
| • | 3D ARTIST MAGAZINE ISSUE 10: "Brent Zorich Worldwide Industry Insider at Lucasfilm" |
| | |
| • | 3D ARTIST MAGAZINE ISSUE 68: "Worldwide Industry Product Review for BZP PRO": Software Disc Included in Magazine |
| | |
| • | 3D ARTIST MAGAZINE ISSUE 76: "Cover Story of Worldwide Magazine for BZP PRO": Software Disc Included in Magazine |

| | |
| --- | --- |
| | COFOUNDED AND CEO'D A LLC THAT HAS BEEN FEATURED IN THE WALL STREET JOURNAL: |

| | |
| --- | --- |
| • | MARKET WATCH PERSONAL FEATURE ON ME |

COFOUNDED AND CEO'D A LLC THAT HAS
LECTURED AT OVER FORTY UNIVERSITIES:

THE TOPIC WAS CHARACTER TECHNICAL CONSTRUCTION

| | |
| --- | --- |
| | SCHOOLS LECTURED INCLUDE USC, SAN JOSE STATE, SHERIDAN, NEW MEXICO STATE UNIVERSITY, DEPAUL, NORTH CAROLINA RESEARCH TRIANGLE AND CCAD |

COFOUNDED AND CEO'D A LLC THAT HAD BOOTH REPRESENTATION AT THE TWO BIGGEST CONFERENCES IN ENTERTAINMENT:

SIGGRAPH '13 - GDC '14
| | | |
| --- | --- | --- |
| | | |
| | VIDEO GAME PROJECT REQUESTS | |
| | | |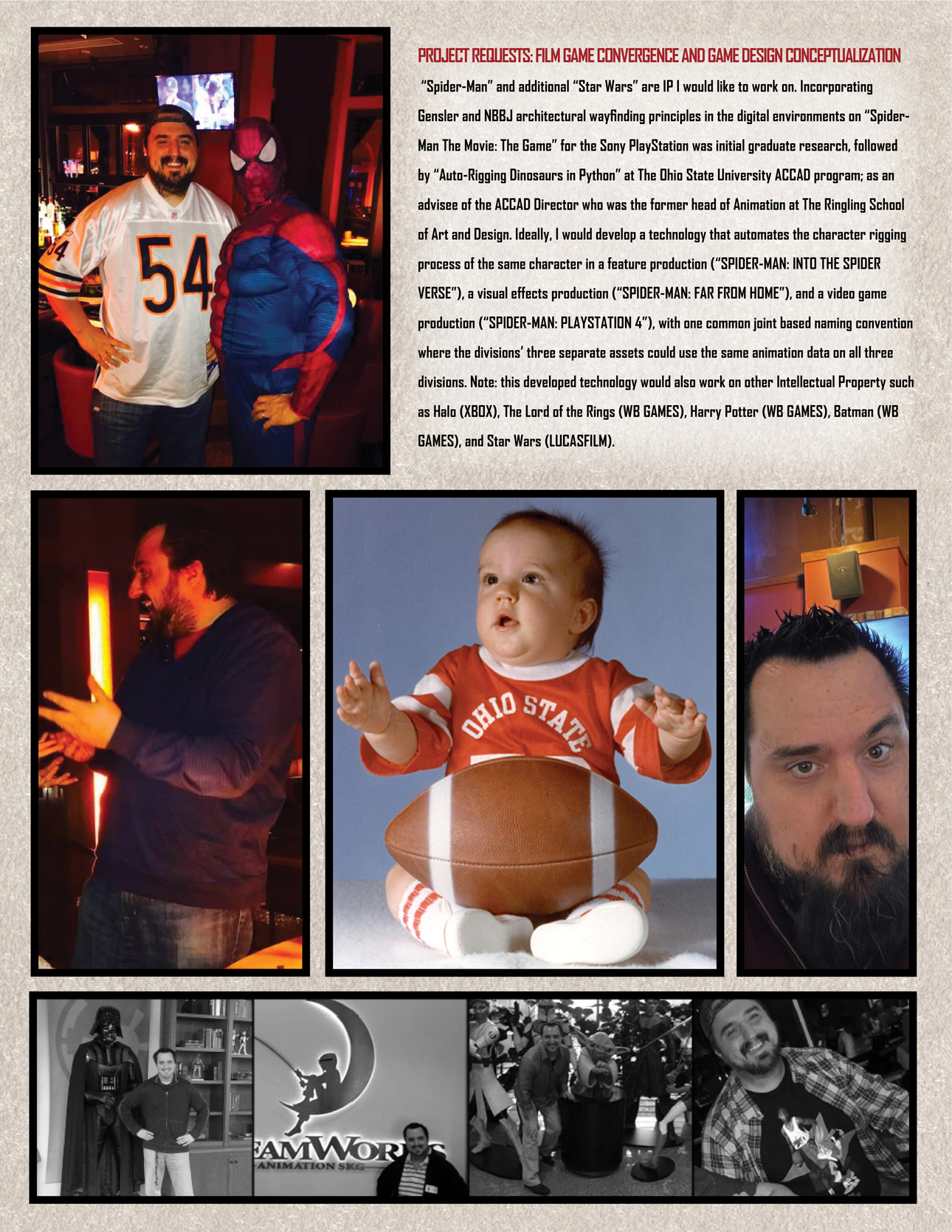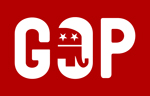 - SITE FUNCTIONS BEST ON 5G -
- SITE BEST VIEWED ON IPAD OR TABLET -