SETTLEMENT REQUEST FOR 2009
REQUEST FOR 2009 PAIN AND SUFFERING FOR NEAR FATAL INJURY::::::: December 29th, 2021 ::::::: Note, this particular blog will come off with an NDA if requirements are satisfied.

1. 500 million paid out over 7 years- tax free due to this being a medical settlemenT. NOTE: BRENT WILL KNOCK 1.5% OFF OF THE LUMP SUM PER EVERY YEAR EXPEDITED. SO, FOR EXAMPLE, IF THE GUILTY PARTIES AT LARGE WHO CAUSED THIS, WERE WANTING TO PAY A LUMP SUM WITHIN THE FIRST YEAR AND BE DONE WITH IT, BRENT WOULD ALLOW 10.5% TAKEN OFF THE LUMP SUM (1.5% TIMES 7 YEARS OFF OF 500 MILLION) OR APPROXIMATELY 448 MILLION. IF THE PARTIES WANTED TO PAY OFF IN 5 YEARS, THEN IT WOULD BE 3% OFF (OR 1.5% TIMES 2) OF 500 MILLION, OR APPROXIMATELY 485 MILLION IN TOTAL .... OVER FIVE YEARS... ETC.

2. Additional class work in core engineering and art classes at Stanford, all the way up to a second masters, this one being in computer science if necessary- ideally focusing on software compiling and generating cgi architectural shapes based off of musical algorithms (constructing a game world off of ripping a music cd).IF BRENT WERE TO CHOoSE TO MOVE TO NYC WITH THE AWARDED MONEY INSTEAD, THE SCHOOL FOR THE SECOND MASTERS WOULD BE MIT. Lastly, if a deal were made that would involve columbus, where BRENT IS from, and the establishments would be set in central ohio, BRENT would want to attend carnegie mellon for the second masters in engineering. carnegie mellon, stanford, uc berkeley, and mit are all tied for first place according to us news and world report as being the top engineering schools on the planet.

3. Once every three years lecturing a design department studio class at Harvard or stanford where I am on the Harvard or stanford dot edu faculty webpage.

4. Pathway to achievability of Chief Visual Officer at ILM (Star Wars, Marvel), PlayStation (Spider Man, Drakes Uncharted Fortune, Last of Us, God of War), Xbox (Halo), Warner Bros Games (Harry Potter, Lord of the Rings, Batman Arkham, Superman), Electronic Arts (west coast Star Wars), Rockstar Games (Grand Theft Auto, Red Dead Redemption), with base pay, stock, and bonus, competitive to EA listed compensation on homepage- or a deal worked out where I consult on all of these companies computer graphics projects to make my portfolio that great under a new LLC- with a possibility of developing game simulations to train marines in a military contract (on top of the creative ip)- note this military technology could also train police officers.

5. Proper connections and management accessibility where I can own, if not co own, and properly operate my own private equity firm.

6. AWARDED HONORARY DOCTORATE IN DESIGN/ ANIMATION/ THE ARTS/ OR ENGINEERING FROM THE OHIO STATE UNIVERSITY FOR THIS MISHAP IN ADDITION TO THE PAYMENTS AND OTHER FIVE REQUESTS SO HE CAN BE REFERRED TO AS "DR. ZORICH" PUBLICLY..
SUMMARY: A "DEAD POET SOCIETY" LEVEL GRADUATE STUDENT, BRENT J. ZORICH, WHO HAD ALREADY WORKED AS AN INTERIOR ARCHITECT AT THE TWO LARGEST DESIGN FIRMS IN THE WORLD (GENSLER AND NBBJ), IS A FORMER SCHOLAR ATHLETE AT THE TOP ACADEMIC HIGH SCHOOL IN THE STATE OF OHIO, ST. CHARLES PREPARATORY, IS A MEMBER OF THE PLANET'S LARGEST FRATERNITY, SIGMA ALPHA EPSILON, IS THE FORMER PRESIDENT OF THE DESIGN DEPARTMENT STUDENT BODY AS VOTED IN BY HIS PEERS RANKED THIRD IN THE COUNTRY, AND WHOSE DESIGN CLIENTELE INCLUDE NIKE, REEBOK, ADIDAS, THE REPUBLIC OF CHINA, VOLKSWAGEN, LINCOLN MERCURY, AND GTE; IS BEING APPROACHED PSYCHOTICALLY, WHILE EXERCISING, BY THREE TO FIVE LOWER LEVEL EDUCATED COMMUNITY COLLEGE MEMBERS OF A GYM (IN WORTHINGTON, OH) THAT ARE JEALOUS OF THE OPPORTUNITIES HE IS RECEIVING IN HIS ANIMATION, VISUAL EFFECTS, AND VIDEO GAME, GRADUATE PROGRAM (ACCAD AT OHIO STATE) IN 2003. BRENT WAS MEETING SUPERVISORS IN COMPUTER GRAPHICS ON SUCH PROJECTS AS "JURASSIC PARK", "TERMINATOR 2: JUDGEMENT DAY", "SHREK", "FINDING NEMO", "LORD OF THE RINGS", AND "STAR WARS." THE COMMUNITY COLLEGE MEMBERS PROCEED TO STALK AND HARASS HIM SIX YEARS LATER IN 2009 AT HIS EMPLOYER, LUCASFILM (LUCASARTS AND INDUSTRIAL LIGHT & MAGIC), ACROSS THE COUNTRY IN SAN FRANCISCO, AFTER HE ALREADY HAD WORKED AT ELECTRONIC ARTS (EA SPORTS), TAKE TWO INTERACTIVE SOFTWARE (NBA 2K), AND IN THE DREAMWORKS OUTREACH PROGRAM. THESE COMMUNITY COLLEGE GYM MEMBERS ALREADY WERE REPORTED TO HIS GRADUATE SCHOOL SIX YEARS PRIOR AT THE OHIO STATE UNIVERSITY IN 2003. THE 2009 EXPERIENCE CAUSED MEDICAL INJURY AND DISABILITY (6 WEEKS OF NEAR FATAL HOSPITALIZATION AND 4 MONTHS OF EXTREME PAIN AND SUFFERING) WITH THESE THREE TO FIVE COMMUNITY COLLEGE GYM MEMBERS ULTIMATELY REPORTED TO THE FBI. WHEN THEY SHOWED UP ACROSS THE COUNTRY ON LUCASFILM'S CAMPUS AND WERE APPROACHING HIS COWORKERS, BRENT BECAME ANGERED AND DUE TO LACK OF SLEEP AND STRESS OF THIS SITUATION, WAS PRESCRIBED MEDICINE FROM A DOCTOR THAT HE HAD NEVER HAD TO TAKE TO ALLEVIATE THE ANGER AND STRESS. HE HAD AN ALLERGIC REACTION TO THE MEDICINE (SEVERE HEAD TRAUMA AND SHOOTING PAINS IN HIS CHEST AND WRIST), ULTIMATELY LEADING TO DISABILITY AND HAVING TO MOVE BACK HOME TO COLUMBUS, OHIO. BRENT WORKED THROUGH DISABILITY TO FORM A SOFTWARE COMPANY WITH BOOTHS AT SIGGRAPH AND GDC THAT HAS BEEN UNDER ACQUISITION REVIEW FIVE TIMES FOR 20 MILLION DOLLARS, AS WELL AS LAUNCHING A CLOTHING LINE THAT HAS BEEN FEATURED IN THE WALL STREET JOURNAL'S 'MARKET WATCH' NOW IDENTIFYING HIM AS A GLOBALLY PUBLISHED TECHNOLOGY ENTREPRENEUR. NOTE, IN 2003 THE ACCAD PROGRAM OF OHIO STATE DID NOT TAKE THIS SITUATION AS SERIOUSLY AS THEY SHOULD HAVE WHEN REPORTED, WITH ABOUT FIVE TO SEVEN OF THE ART AND DESIGN STUDENTS AND STAFF- NON COMPUTER SCIENCE- ACTING UNPROFESSIONALLY AT THE TIME WITH UNWANTED SEXUAL ADVANCES, ACTING BIZARRE IN GENERAL, AND GIVING PARENTAL DEATH THREATS. HAD OHIO STATE TAKEN THIS SERIOUSLY, THIS ALL WOULD HAVE BEEN AVOIDED, BRENT NEVER WOULD HAVE GOTTEN SICK, AND DUE TO BEING AN EXECUTIVE TRAINEE WOULD PROBABLY BE THE BOARD OF DIRECTORS AT LUCASFILM. THE GUILTY PARTIES CAN FACE TWENTY YEARS IN PRISON DUE TO BRENT'S INJURY ACCORDING TO FEDERAL LAW.

NOTE: BRENT'S ATTITUDE TOWARDS THESE PEOPLE IS NOT BASED ON ARROGANCE OR SNOOTINESS. AT THE TIME OF THE EXERCISING IN THAT GYM FACILITY, AT OHIO STATE, AND AT LUCASFILM, BRENT WAS WORKING A LOT OF 70 HOUR WEEKS DOING "GOOD WILL HUNTING" LEVEL FORMULAIC PROGRAMMING AND WORK. WHILE EXERCISING ON THE TREADMILL OR AT LUCASFILM, HE WAS EITHER PLANNING HIS DAY OR CALCULATING RIGGING PIPELINE FORMULA AND CHOSE NOT TO ENTERTAIN THE CONSTANT BOMBARDMENT OF UNWANTED HARASSMENT FROM A GROUP OF PEOPLE WHOSE AMBITIONS ARE NO WHERE NEAR MATCHED HIS OWN. BRENT'S JOB IS INCREDIBLY DIFFICULT AND DID NOT WANT TO BE DISTURBED BY PEOPLE THAT HE CHOSE TO NOT ENGAGE WITH IN INTERACTION.
BRENT'S THROUGH IT... AND FULLY RECOVERED.... BUT HAS AS OF YET TO BE COMPENSATED. HE IS ONLY SUFFERING FROM MOMENTARY LAPSES OF PTSD AND FATIGUE AT THIS POINT, OCCASIONALLY HAVING A "SLOW DAY."

A FAMOUS QUOTE FROM BILL GATES IS, "LIFE IS NOT ALWAYS FAIR." JUST BECAUSE YOU GET KNOCKED DOWN, DOES NOT MEAN THAT PEOPLE ARE GOING TO STAND THERE AROUND YOU, CRADLE YOU, AND HELP YOU UP. "LIFE IS NOT ABOUT HOW HARD YOU CAN HIT, IT'S ABOUT HOW HARD YOU CAN GET HIT, AND KEEP moving forward...." SYLVESTER STALLONE. in life, no one is going to hold you and tell you it is going to be ok. no one is obligated to give you support. no one is there to cradle you and say, its gonna be alright. in fact, when this happened to brent, and he moved back to columbus to recover, he had to be caregiver for his dad who was terminal with multiple sclerosis and his mom who had terminal pancreatic cancer. no one held brent, even when both of his parents passed away under this condition, and he had to pull himself out of the sarlacc pit.

BRENT HAD A CHOICE IN THIS MATTER: "1. CRUMBLE AND CRY"; OR, "2. COLLECT HIMSELF AND CONQUER":

AFTER GETTING INJURED, AND Under those stressful circumstances, what got BRENT focused, and pulled Boba Fett out of the Sarlacc Pit, was not counseling or being pampered in his weakened state; nor was it from the love of a woman; it was the film, "The Social Network," which provided him a clear step by step path and guidance to not only form a LLC, but raise money, talk to vcs, get on the cover of worldwide magazines, get approached by the sharks on ABC's Shark Tank, impress one percenters (Harvard angels), bring in partners for equity, give desire to take continuing education at Stanford and be a Cardinal, have the strength and energy to market to 250 universities and give webinars to the students, get quoted publicly as "mind blowing" by the top person in graphics (the siggraph chair), own booths at the two biggest conferences in digital entertainment: siggraph and gdc, work with engineers from google to set up a license server that provided individual licenses to students, nearly flip the LLC five times, write the technology based on lucasfilm film game convergence where through memory of production, the software Brent wrote mimicked ilm's so much the prequel supervisors on Star Wars wanted royalties, and be named one of "the top 100 people in technology" post recovery, with a temporary value at the time of approximately 20 million, according to ILM affiliates who worked on The Empire Strikes Back; and finally, giving him the opportunity to create one of the top, most successful, resumes in the computer animation/ engineering industry where Brent has even seen job specs for engineering in San Francisco for serious dollar amounts: he is hoping that when rejoining a studio, the package will be close to 3 to 5 million with salary, stock, and bonus. Most recently, he launched a clothing line that has already been approached by several PR firms about not only getting him in the Wall Street Journal, but also in Vogue. His current net worth without including the worth of the software code in potential acquisition as of this date is just over 1 million dollars. The sky is the limit. Thank you to the cast of "The Social Network." You motivated and helped Boba Fett get out of The Sarlacc Pit when no one else did

Now, due to his attitude, work ethic, and entrepreneurial mindset, his resume, website, and demo reel, are now more impressive and intimidating than the majority of people that are on the Lucasfilm Board of Directors website off of Disney dot com:

https://www.lucasfilm.com/who-we-are/leadership-team/

he chose "2. COLLECT HIMSELF AND CONQUER."
EMAIL CORRESPONDANCE TO THE FBI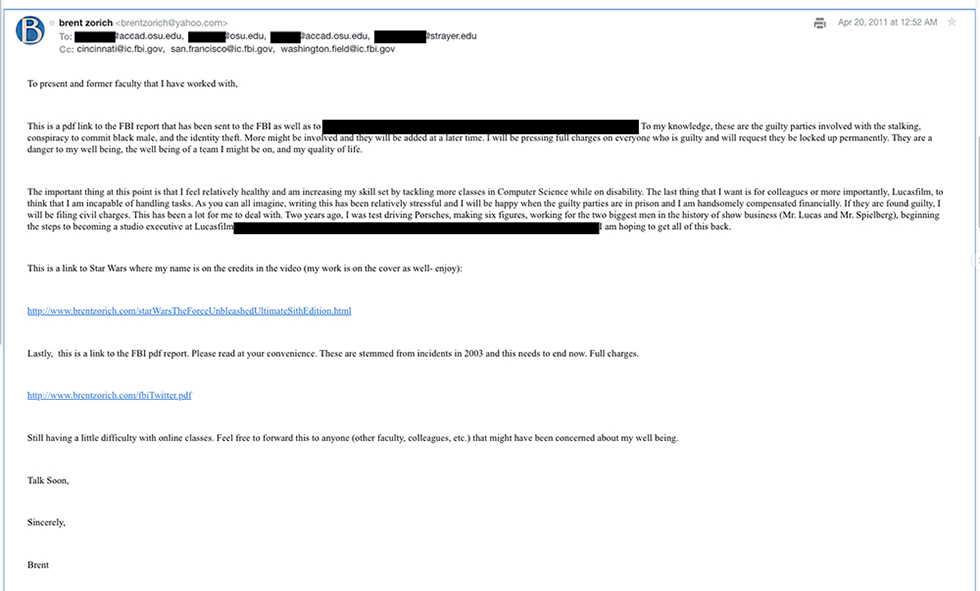 WORKPLACE INJURY SSD CAUSED BY 2009 INCIDENT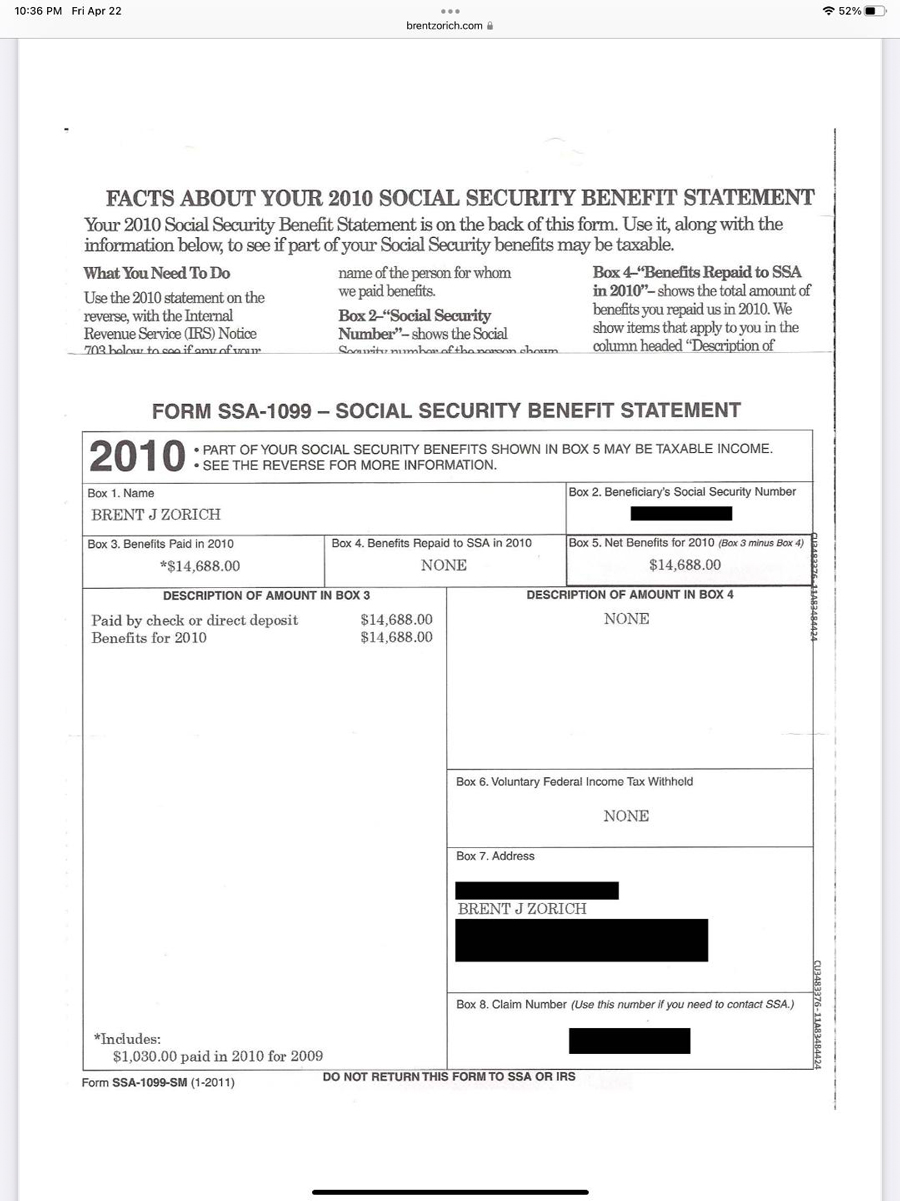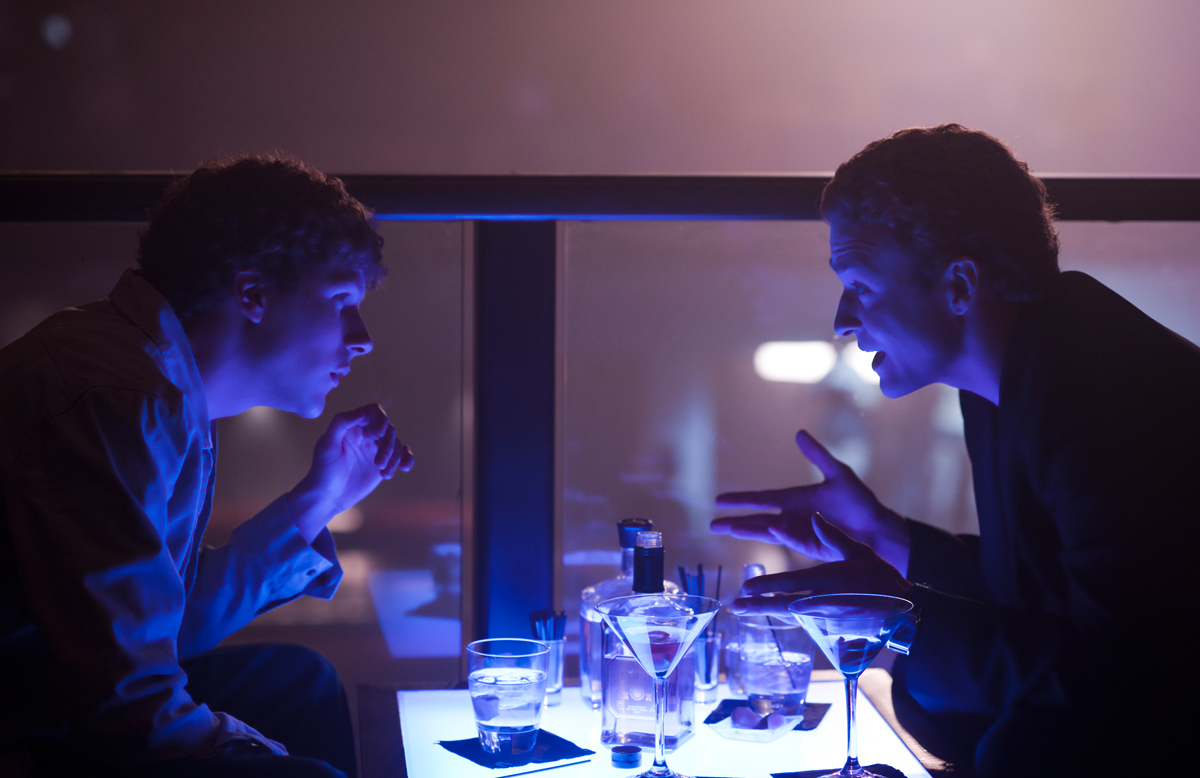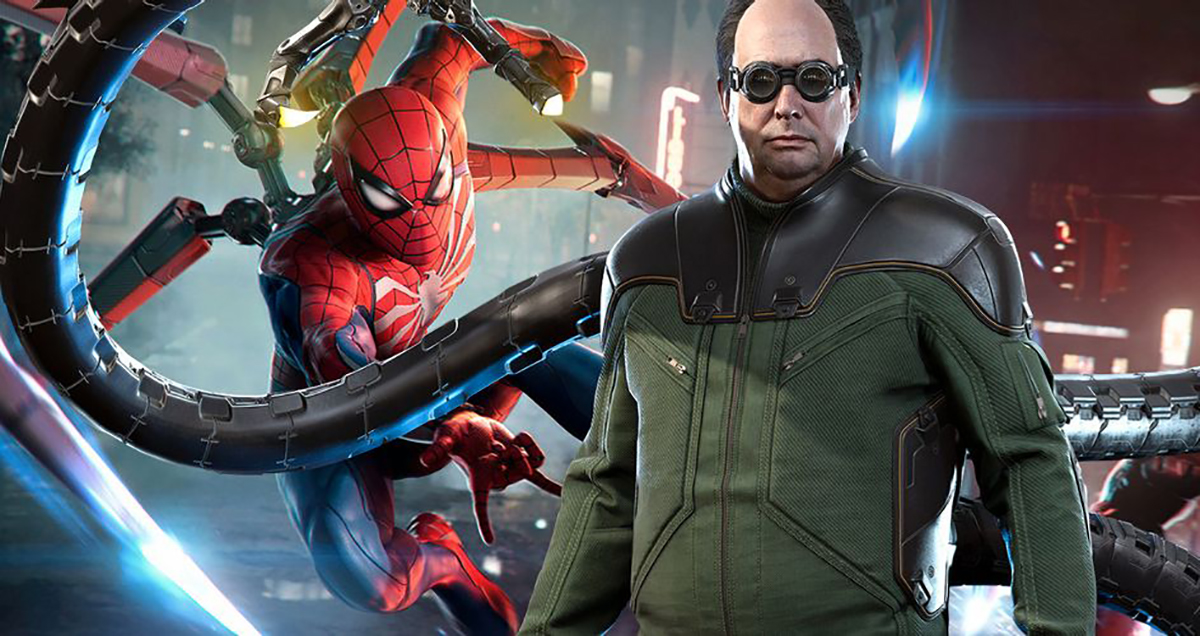 FURTHER EXPLANATION CLICK HERE