COMPANIES
BZAC LLC

Chief Executive Officer- Rigging Consultant 2015-Current
| | |
| --- | --- |
| | "City of the Shroud" (skinning contract work for video game company Abyssal Arts from London, England) |
| | | |
| --- | --- | --- |
| | • | Formed a co - advertising partnership with the fastest growing worldwide online store for digital assets, with over 200,000 members: CG TRADER. |
| | • | Formed advertising alliances between my LLC and global companies 3DEXPORT out of San Jose, CA and Lotus Arts from Denmark after successful presentations. |
"SMART SKINNER BIPED/ QUADRUPED SOFTWARE"

(author of Autodesk software that automates 110 hours of character technical construction into 30 minutes)

"Ping Pong Rabbit" (prototype rig submission- film by Oscar Nominated Mike Johnson, co director Tim Burton's Corpse Bride)


| | | |
| --- | --- | --- |
| | • | Co-developed marketing strategy that licensed Smart Skinners to over 250 Universities on 6 continents in less than nine months with a penetration rate faster than FACEBOOK. |
| | • | Developed prototype presentations for several film studios, including Sony Pictures, due to the software I designed ease of use with asymmetrical characters. |
| | • | Gave over forty university guest lectures to student bodies that resulted in positive sales of The Smart Skinner due to the design presentation and software "ease of use." |
| | • | Licensed Smart Skinners to several key clients after proving rigging superiority against existing technology; one of which was Dead Panic Studios that worked on 2015 Oscar winning film "INTERSTELLAR" by Christopher Nolan; as well as GOMA VFX whose clientele include DISNEY, MTV, and NINTENDO. |
| | • | After creating presentation material, secured Angel Investments from alum of both HARVARD and YALE that put the LLC in a position to make the cover of worldwide magazine. |
| | • | Co-wrote the "pitch deck" which secured an Incubator Engagement with Tech Columbus/ Rev1 Ventures and assisted the BZP PRO booths at SIGGRAPH 2013 and GDC 2014. |
| | • | Designed Modular Rigging System saving weeks worth of billable time. Incorporated on 2017 release. Motion capture pipeline incorporated (HIK). |
| | • | After co-pitching The Chicago Harvard Business Angel Investors Group, entered into a mentor ship program where they provide strategic guidance. |
| | • | Due to Fortune 100 Merger & Acquisition interest, signed a Harvard Investment Banker, formerly of GOLDMAN SACHS, to broker and sell BZP PRO LLC. |
| | • | Awarded NDA with a major motion picture studio with offices worldwide in Los Angeles, San Francisco, and India, after meeting with the Chief Technology Officer and Head of Research and Development at the BZP PRO Siggraph 2013 booth. |
| | • | Due to leadership ability, spearheaded Fortune 100 acquisition presentations to three multi billion dollar potential buyers, one of which worth over 100 billion dollars, with both detailed visual and audible material. |
| | | |
| | | |
| | | |
| | | |

BZP PRO stopping by DreamWorks PDI

BZP PRO stopping by Zynga for a mentorship session with billionaire and FACEBOOK co founder Mark Pincus- October 2013
| | |
| --- | --- |
| | COMPLETED MASTERS DEGREE 2010-2011 |
LUCASFILM, LTD.

Senior Technical Artist (Corporate Executive Trainee - Best Practices Steering Committee) 2008-2009
"Star Wars The Force Unleashed Ultimate Sith Edition" (lead rigging and submitted concept artwork)
"Indiana Jones and The Staff of Kings" (rigging and character deformation R and D)- A Steven Spielberg Project
"Star Wars The Clone Wars: Season Two" (color correction & compositing) Shown at annual firmwide meeting.
"Transformers Revenge of the Fallen" (shot approval)
"Star Wars The Force Unleashed II" (initial kickoffs, shared assets, file management, eight month rigging r and d)
"HARRY POTTER AND THE HALF BLOOD PRINCE" (Shot Prep for monthlies approved by the head of ILM singapore)

| | | |
| --- | --- | --- |
| | • | Promoted, salary increased, and relocated from Singapore to San Francisco after only five months. |
| | • | Invited by The Director of Animation Technology to be on the Steering Committee setting "Best Practices" for LucasArts, Lucasfilm Animation, and Industrial Light & Magic. |
| | • | Selected by Human Resources to go through Executive Leadership Training administered by Engaged Communication. |
| | • | Created a converged film Ahsoka Tanu working in the Unreal Engine that was approved directly by Mr. George Lucas in Singapore. |
| | • | The President of LucasArts positively reviewed my executive proposal entitled Offensive Attack Strategy about attacking Lucasfilm opposition through employee training, technical direction, and aesthetic, and passed it on to the Board of Directors. |
| | • | Invited into highly coveted Creature Research and Development meetings at Industrial Light & Magic after demonstrating technical ability to ILM Department Supervisor. |
| | • | Converged Oscar Nominated and Emmy Award winning Star Wars IP characters such as General Grievous, The Emperor, Commander Cody, Jango Fett, Ahsoka Tanu, Kit Fisto, Jar Jar Binks, Lord Vader, and Anakin Skywalker, into company benchmarked assets. |
| | • | Invited to the prestigious Skywalker Ranch on numerous occassions to obtain extensive research that would be incorporated into characters Boba Fett and Jabba the Hutt. |
| | • | One of the characters completed with under my lead technical direction, Ultimate Evil, was chosen as the cover of Star Wars The Force Unleashed, a very prestigious honor. |
| | • | Documented and extracted key assets of ILM's rigging software, Block Party 1, to do quality assurance against Autodesk Maya for multi divisional usage. |
"Madden NFL 08"

(shoulder pad research and development. football player skinning)


"NCAA Football 08"

(shoulder pad research and development. football player skinning)


"EA Sports MMA"

(prototype rig development)


"Tiger Woods PGA 09"

(prototype rig development)


"NFL Tour"

(in charge of character technical construction for all characters in title)


"NFL Head Coach 09"

(in charge of character technical construction for all characters in title)


"Madden NFL 09"

(in charge of character technical construction for all characters in title)


"NCAA Football 09"

(in charge of character technical construction for all characters in title)
| | | |
| --- | --- | --- |
| | • | Salary increased after only three months. |
| | • | MADDEN NFL rating increased to 9.1 from 8.7 after I designed the standard football player rigging system implemented into all EA SPORTS football titles. |
| | • | After proving technical abilities, invited into monthly global meetings assisting on rigging with EA SPORTS' "Global Rigging Bodyshop" (FIFA, NHL, Fight Night, included). |
| | • | Madden work featured on nationally televised show "Madden Nation" on ESPN. |
| | • | Pitch to heads of Central Football about EA SPORTS partnering with NIKE to co research bio mechanics and motion capture after requested how to improve the team. |
"College Hoops 2K7"

(shoulder deformation tweaking. cheerleader rigging)


"College Hoops 2K8"

(character technical construction research and development)


"NBA 2K8"

(character technical construction research and development)
| | | |
| --- | --- | --- |
| | • | Made deformation improvements on deltoids, calves, and hamstrings through corrective sculpting. |
| | • | Worked with, tested, and analyzed biomechanical motion capture data of athletes like Shaquille O'Neil. |
"Superman Returns The Video Game"

(rigging of dragon villain character and modeling of Lex Luthor's wardrobe)
| | | |
| --- | --- | --- |
| | • | Due to a high performace internship review, awarded the task of creating the outfit of the main character, Lex Luthor. This would typically be assigned to Senior Staff. |
| | • | Recommended for full time hire by my manager after internship ended. |
| | | |
| --- | --- | --- |
| | • | Worked with and trained by a group of supervisors and directors collectively on Shrek, Shark Tale, Madagascar, Spirit, Spider Man 2, Finding Nemo, and Shrek 2, over twenty weeks. |
| | • | Asked to give lecture and demo on CGI at the Wexner Center for the Arts as apart of this Outreach. |
"The Mystery Dinosaur"

airing on The Discovery Channel and The Science Channel
GENSLER

(design firm ranked overall #1 in the world)

Interior Architect 1999-2001
Clientele:

| | | |
| --- | --- | --- |
| | Volkswagen | Design and Construction Documentation |
| | Solomon Smith Barney | Design Documentation |
| | Adidas | Retail Store Auditing |
| | Lincoln Mercury | Concept Store Design |
| | GTE | Design and Construction Documentation |
| | | |
| --- | --- | --- |
| | • | Salary increased during employment. |
| | • | Recommended to graduate school at ACCAD at Ohio State by a partner in the firm. |
| | • | Gave studio presentation as apart of firm training on Industrial Design, Retail, and Brand. |
| | • | Due to proven illustration ability, flown between Atlanta and Charlotte studios to handle marker rendering. |
| | • | Created technical design and construction documentation of both interior and landscape architecture for Fortune 100 clientele. |
NBBJ

(design firm ranked overall #2 in the world)

Intern 1998-1999
Clientele:

The Republic of China
SOFTWARE EXPERIENCE
Maya, Motion Builder, MEL, Python, Photoshop, ZENO (ILM's software), After Effects, Final Cut, VRML, Pixar's Renderman, Slim, HTML, C++
EDUCATION
St. Charles Preparatory High School 1993 (Columbus, Ohio)- Varsity Football Scholar Athlete
BSID The Ohio State University 1998 Senior Thesis Clientele:

Nike
MA at ACCAD at The Ohio State University 2011: Thesis Paper - PYTHON SCRIPTING OF AUTORIG DINOSAUR - ZIP FILE OF DINOSAUR WALK
HONORS
Portfolio and Biography featured in Issue 10 of "3D Artist" magazine

Portfolio featured in panel at Siggraph 08

Multiple Graduate Associateship Scholarships

Chairperson's Discretionary Scholarship awarded after voted as Undergraduate Design Circle President

Selected to be a member of Cambridge's Who's Who run by Donald Trump Jr.

COLUMBUS COLLEGE of ART AND DESIGN Paid Guest Lecturer 2010

Member of Sigma Alpha Epsilon (Ohio Theta Chapter at The Ohio State University)- pin number 236237

Product pitch and submission to the CEO office of Reebok (The Golf Sandal) 1997

Guest lecturer at over 40 schools across the United States and throughout Europe, Australia, and Asia
COVER LETTER
TO FUTURE BUSINESS AFFILIATES
I am co-founder and CEO of an Autodesk Authorized Developer, BZP PRO - a company that has addressed a missing need in the animation industry. In 2014, I invented several software packages that automate what used to be 110 hours of repetitive technical direction in a mere 30 minutes, with absolutely no compromises on quality. I successfully sold my software packages on six continents, partnered with over 250 academic institutions worldwide, and established a presence in booths at the two most coveted conferences in entertainment: Siggraph and The Game Developers Conference.
The software that I wrote and am distributing through BZP PRO scored a positive overall rating in a world wide publication, ISSUE 68 of 3D ARTIST MAGAZINE; a trial version has been burned to the accompanying magazine DVD. As an immediate reaction to the editor (which gave an overall great score), I personally made the proper adjustments to the product where the magazine had been most critical. The software was then re featured on the cover of a following worldwide publication, 3D ARTIST MAGAZINE ISSUE 76. Myself and my BZP PRO co-founders (one, a graduate of the Harvard and Yale business school and a Captain in the United States Marine Corps; and two, a television producer that had worked for the SPIKE Network) have been securing seed rounds, negotiating deals with Oscar-nominated directors and studios, partnering with Tech Incubators, and launching our game-changing software solutions into worldwide recognition.
I am opening dialogue with you to discuss how my contribution to your leadership team can build your brand and your bottom line. I have spent over a decade working with the top designers, artists, animators, and architects on the planet. Drawing from my multi-layered expert view of the digital entertainment industry, I will:
- Study your technology pipelines between different divisions,
- Look for ways to automate productivity through innovation that will cut overhead hours, and
- Increase the functionality and aesthetic of your end product.
As a Senior Technical Artist at Lucasfilm, I took Star Wars character rigs generated by three separate digital divisions and singlehandedly converged the strongest and most compelling attributes of each rig into one all-encompassing digital character. One of my master characters was personally approved by Mr. George Lucas in Singapore. I was featured in a third worldwide magazine as the "Industry Insider" in 3D ARTIST MAGAZINE ISSUE 10 while at Lucasfilm due to my strong reputation. As a contributor to your leadership team, I will also institute a Best Practices Steering Committee similar to the one on which I was placed at Lucasfilm, where those employees with years of experience will have the opportunity to come together to document efficient animation methodologies and techniques that the entire staff can then utilize to drastically improve the consistency and quality of their work product.
As someone who thinks outside the box, I will always look for ways to improve your organization by proposing partnerships with other companies that result in a financial win/win - whether it be in sales pipeline, biomechanics incorporation into digital characters, or concept design and art visualization. Lastly, thanks to my design and brand background forged while working at the architecture firm ranked number one in the world, I will successfully merchandise my technology/animation/innovation solutions into retail. I can generate your company revenue and positive world wide recognition through innovation. My experiences have enabled me to conceptualize entertainment technology; apply data of actors or athletes from motion capture; develop schematics; deliver solutions; distribute into global retail; strengthen brand; secure funding from outside investors; and lead a team.
Respectfully,
BRENT J. ZORICH
Chief Executive Officer
BZP PRO (Autodesk Authorized Developer)
BUSINESS CARDS
SAMPLE OF FORMER BUSINESS CARDS
| | |
| --- | --- |
| | |
| | |
| | |
| | |
| | |
| Architecture firm ranked number one in the world | LUCASFILM Offer Letter Confirming Senior Staff |
CURRENT BUSINESS CARD
RESUME BEING USED AS A WORLDWIDE TEMPLATE FOR HARRY POTTER
-international company recognizing design aesthetic-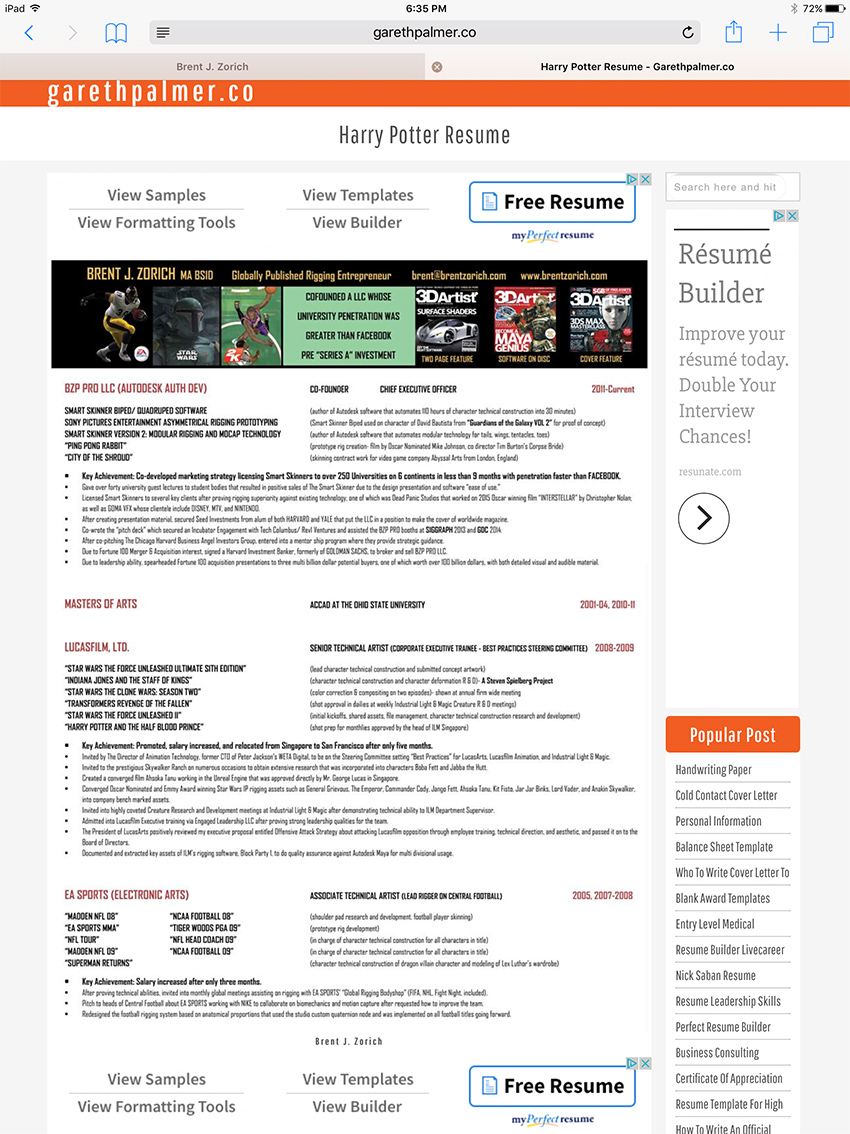 PORTFOLIO BEING USED AS A WORLDWIDE TEMPLATE BY MAFIADOC.COM
-international company recognizing design aesthetic-